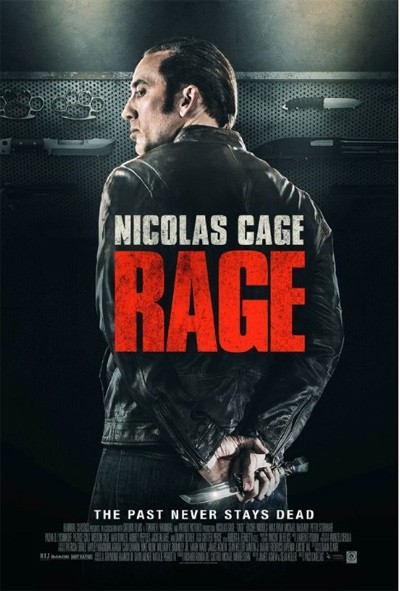 Nicolas Cage is back to his famous tantrums and 'Cage-isms' in his new film, 'RAGE' (RLJ Entertainment) (originally known as 'Tokarev' but the name was changed); an action-suspense thriller about a reformed criminal (Paul McGuire); with a dark secret. He used to be a gangster who killed a man when he was 17 who he got into an altercation with years ago.
After Paul departs for a night out with his wife; (Rachel Nichols) and leaving the daughter in the house alone with two boys; Pete the detective (Danny Glover) tells Paul the bad news about his daughter missing. Paul recruits his old crew members to seek his own brand of justice after his daughter, Caitlin is originally thought to be kidnapped and killed by the Russian mob, but it turns out her death was ruled as accidental. I originally thought it was a carbon copy of Nic's film, 'Stolen' but it's a slightly different plot with a twist.  It's currently available On Demand which is how I viewed the movie and will be released in theaters on July 11. It also co-stars Peter Stormare.
The film was directed by Paco Cabezas, written by James Agnew and Sean Keller and produced by Richard Rionda Del Castro and Michael Mendelsohn.  It was shot on-location in Mobile, AL. in the scorching hot summer heat of 2013. It features footage around the area promoting the town that no one has ever heard of until now. It shows the skyline, the cemetery and the downtown streets during the car chase scenes; which I found the most exciting believe it or not! Does this mean that Mobile, AL is the new Hollywood or a new tourist attraction?
It seems like it was a low-budget film made for TV instead of cinema and the editing was rushed and needs improvement. I credit the cast and crew for all their hard work and efforts filming in that excessive heat as they did a fantastic job creating the production; especially with the car chase scene and blowing up real police cars but the movie is not on my A-list. I'm not one to sugarcoat I tell it like it is!
I have no clue how Nic chooses his screenplays, but even though this movie wasn't his best film; he's really powerful in this flick with his famous rants. He shows real, raw emotion and energy in the violence scenes and that's what he's known for in his films. I admit I really like him. He's a really talented actor and looks good in this film. He just needs to pick better scripts. As the film's slogan clearly states, 'The Past Never Stays Dead' neither will this film; it will just go straight to DVD and On Demand!
I rate this film a C.