Nia Long Disses Beyonce's Acting Skills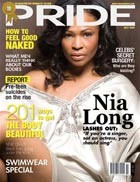 Nia Long
doesn't hide her opinion when it comes to singers making the move to the big screen - especially when said singer is hired based on star power instead of skill.
In her interview for the cover story of Pride Magazine, she says "If you're a singer, not an actress, you should sing. If you're a rapper, you should rap."
The opinionated answer came when she was asked what she thought of
Beyonce
's performance in the thriller
Obsessed
.
"I didn't see 'Obsessed,' so I can't comment, but it's just not about how talented you are anymore. It's about, 'How much box-office revenue will this person generate.'"
"When you see certain people—we won't name names—they just don't have the skill, and no one in their team has said, 'You need acting classes.'"
"If you were able to take all the Black actresses and the choices we've made collectively, it's a pure reflection of what you see on film. People need to work. But the content? The opportunities for Black actresses are more widespread today, but the quality has suffered."
However, Long did have kind words for a particular multitalented actor and singer: "If you take time to develop your craft, God bless you.
Jamie Foxx
is an example of both."
For the entire interview, check out Pride Magazine's July issue, on newsstands now.
Story by
Casey Johnson
Starpulse.com contributing writer