NFL Still Fighting M.I.A. Over Super Bowl Middle Finger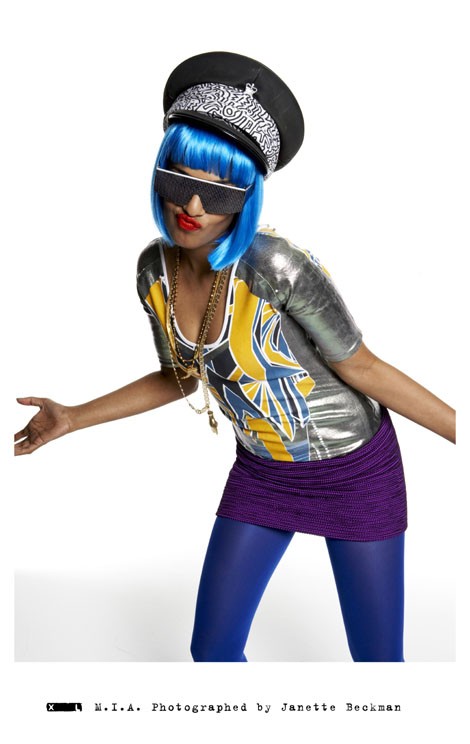 After a year and a half, the NFL is still in a legal battle with rapper M.I.A. for giving the finger to 167 million television viewers during the 2012 Super Bowl.
Madonna was the big star during the halftime show, and she invited M.I.A. and Nicki Minaj to sing "Give Me All Your Luvin." During the song, M.I.A. flipped the bird while mouthing, "I don't give a s---."
Madonna told MTV afterward, "I was really surprised. I didn't know anything about it. I wasn't happy about it. I understand it's punk rock and everything, but to me there was such a feeling of love and good energy and positivity; it seemed negative. It's such a teenager, irrelevant thing to do... there was such a feeling of love and unity there. What was the point? It was just out of place."
The Hollywood Reporter reveals that the NFL has been quietly fighting the rapper in court since the show, contending she broke her contract with the league. In particular, they say she went against language that she "acknowledges the great value of the goodwill associated with the NFL and the tremendous public respect and reputation for wholesomeness enjoyed by the NFL."
Although she was not paid for her performance and the FCC did not fine NBC for airing the uncensored finger, the NFL wants $1.5 million from her.
M.I.A.'s lawyer told The Hollywood Reporter, "Of course, the NFL's claimed reputation for wholesomeness is hilarious in light of the weekly felonies committed by its stars, the bounties placed by coaches on opposing players, the homophobic and racist comments uttered by its players, the complete disregard for the health of players and the premature deaths that have resulted from same."
He also said she plans on going public with the legal battle, rather than allow it to continue under wraps. The NFL has not responded to the lawyer's statements.