NFL Offers Super Bowl XLIX Halftime Show To Katy Perry, Coldplay And Rihanna -- But They'll Have To Pay To Play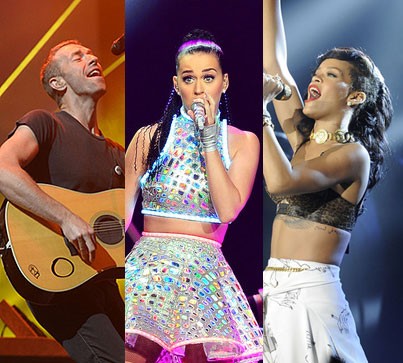 Katy Perry, Coldplay and Rihanna have all reportedly been approached by the National Football League to possibly perform during halftime of Super Bowl XLIX on Feb. 1, 2015. But there's a catch.

The NFL, according to the Wall Street Journal, wants this year's performers to pay to put on their act for millions of TV viewers around the globe.

The league, which only gets a measly $4 million for 30 seconds of ad time during the big game, thinks artists should have to give them a cut of their post-performance profits from touring and boosted album sales following the performance.

The Journal reports that while the league doesn't pay the acts that perform, they do cover travel and production costs (we imagine the halftime show's corporate sponsor covers most, if not all of those expenses) which can end up being well over seven figures.

Naturally the NFL's requests weren't taken well by its top three choices for the 2015 Super Bowl, and they were met with icy responses.

"Our only goal with the Pepsi Super Bowl Halftime Show is to put on the best show for the millions of fans who watch," NFL spokesperson Joanna Hunter told the Toronto Star Wednesday. "Our contract arrangements with artists are confidential."

If the NFL's top three choices to perform during halftime of the big game pan out (we've also heard Carrie Underwood's name from the rumor mill), there's always Weird Al Yankovic.

The singer/comedian has been nominated by fans who petitioned the league (via Change.org) to have him play at halftime, which makes a lot of sense.

Yankovic has been a household for decades, and he just released his 14th studio album, "Mandatory Fun," which debuted at number-one on the Billboard 200 chart.

Anyone who's seen him in concert or has watched one of his live DVDs knows he would be a perfect fit for the big game.

So far the petition has over 125,000 signatures.

Last year over 115 million viewers tuned in to see Bruno Mars and the Red Hot Chili Peppers perform.