'Next Iron Chef' Marc Forgione Walks The Talk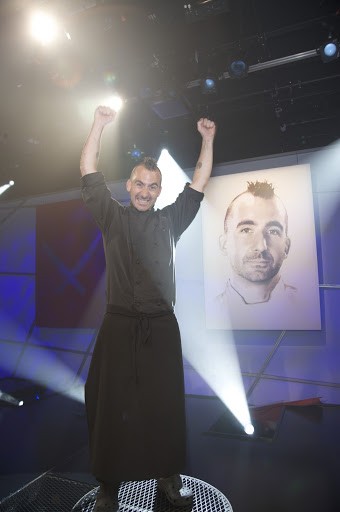 What makes an Iron Chef? Being an adaptable culinary master is a given, but there is a world of talent out there in the dining realm—something more must set these select few apart. In the case of newly crowned Iron Chef Marc Forgione, it may have simply been fate. As it turns out, he was given his spot on the show a mere three days before he had to get on a plane and head to Los Angeles.
"The second round [of interviews] you actually go in there, and it's pretty weird actually, they put you in a dark room and they shine a light on you and you answer questions," he explained, relaying the experience of being recruited for the show over the phone to a group of eager listeners. "I didn't find out until three days before the flight that I was going. I was the last one on there."
It seems difficult to dismiss destiny when you hear a story like that. Not that this is a Cinderella story by any means; in fact, it would be fair to say that Marc Forgione's roots fall more on the mythic side of things. As the son of Larry Forgione (executive chef of An American Place in St. Louis, MO, whose vision and ability earned him the moniker "the godfather of New American Cuisine"), he made it very clear at the beginning of the competition that one of his reasons for desiring the title was to prove to the world that he was a great deal more than a chip off the old block.
But aside from having proved that in the most public way possible, what made him want the shot? When I asked him what makes the title of Iron Chef special, why he had to try for it when he had already accomplished so much, his answer came swiftly: "Even just in the word, when you hear Iron Chef, to me the words that come up right away are respect and honor, and I'm a very competitive person by nature anyway. So for me it's one of those things, it's you either put up or shut up with your food. There's no gray area, you know what I mean?"
Those words that came up when thinking of the title are clearly core values for Chef Forgione. When he was asked which of the themed challenges on the show resonated with him the most, he again answered "respect" and "honor." Those values along with an unquenchable thirst to prove himself could very well have been what tipped the scales in his favor as he went up against so many celebrated competitors. When the possibility of future battles betwixt himself and his fellow Iron Chefs were brought up, his reply was, "I'd love to go against each one of them, just to see how I fare."
For all the grandeur and spectacle involved in the Iron Chef mythos, however, there are always the humbling and hilarious aspects of reality television to ground us. Chef Forgione revealed his own wardrobe malfunction that occurred during the buffet challenge, and what he had to do to recover: "My pants ripped open halfway through that battle, and they don't stop the clock for anything so I just had to kind of adjust my apron to cover my derriere."
He also talked of the moments occurring off-camera that were missed, specifically of the chef's sojourns out to dine each night. "Imagine that ten top coming in to eat at your place. It was a lot of fun just sitting there and hearing everybody else's feedback about what we were doing, and obviously, once a couple drinks got into everybody it always got interesting." Raise your hand if you wish you had been a fly on the wall in those restaurants.
Now that Chef Forgione has proved he has what it takes to run laps around Kitchen Stadium, there is only one matter left: his first battle. It will take place on Sunday, Nov 28 at 10PM Eastern and Pacific Time. Tune in and see what our newest Iron Chef has in store.