Newtown Tragedy: One Mother's Heartbreaking Story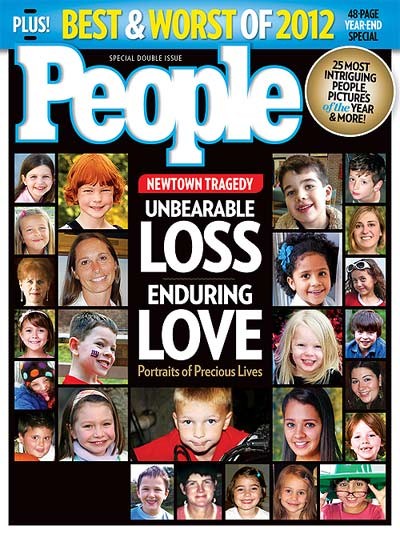 Following a violent gunman's attack on Sandy Hook Elementary School in Newtown, Connecticut on the morning of Dec. 14, families of the 20 children (all between the ages of 6 and 7) and six adults killed share their heartbreak while frightened young children struggle to heal. In a 12-page tribute in this week's issue of PEOPLE, shattered townspeople honor lost loved ones and describe moments of bravery after a gunman took 26 lives within minutes.

Among the anxious parents who rushed to the school in desperate search of their children was Scarlett Lewis, 44, an executive assistant and single mom of two boys, whose younger son Jesse, 6, was one of the children who died in Victoria Soto's first-grade class. Below is an excerpt of Lewis' first-person account of that harrowing day, as told to PEOPLE.

I slept with Jesse every single night. I got a lot of flack for that, but we did it anyway…We had an evening ritual. I would read Jesse a book. Then I would go read to my 12-year-old son JT. Then I would come back and snuggle up to Jesse. I would always say the same prayer: "Dear Jesus, Thank you for this heartbeat. I know he is a gift from you and you could take him from me, but please don't."

The last time I saw Jesse was Thursday morning, when his father picked him up. He had written on my car on the side window – it had frost on it – "I love you," and I said, "Oh, Jesse, I have to take a picture of that." Thank God.

On Friday I was going to leave work early to go to school to make gingerbread houses with Jesse. He knew I was coming and was all excited. One of my girlfriends sent me a message saying, "There's been a shooting." I thought, "Oh my God, that's horrible." But you never think it's your child. Jesse's father, Neil, called to say he was going to the school, so at first I wasn't too concerned.

When Lewis decided she, too, would see what was happening, she found the two-lane road leading to the school clogged with police cars and ambulances.

So I parked on the side of the road and went to the firehouse. They were bringing the kids out, and I was looking for Jesse, saying, "I don't have my child." Police said, "All the parents who have their kids, go over there." And I said, "Where are the other children?" They said, "We don't know, we're doing another sweep of the building. They could be hiding." Somebody said, "I think they took some kids next door." While I ran there, Neil ran to the daycare center. He came back and said, "They're not there." So we came back to the firehouse and waited. But I just kind of knew. All the other kids are gone; we're just sitting there.

As day gave way to night, Connecticut governor Dannel Malloy assigned each waiting family a state trooper.

You know that's not a good sign. Then the state trooper asked for details about what Jesse looked like, any identifying marks, what he was wearing…They asked me for a picture. You just have to do it. So we were sitting there, and some doctor came up to us and said, "There's no easy way to say this, but of the children who are missing there are no survivors."

The rest of Scarlett Lewis' story is featured in the 12/31/12 issue of PEOPLE, on newsstands everywhere now.



This week's People is a special double issue highlighting the best (and worst) of 2012 in the annual "25 Most Intriguing People Of 2012" feature and the Year in Pictures; both of which are quite trivial next to this week's cover feature.

There were fresh starts and powerful achievements, a sex scandal that felled a spy chief, a phenom boy band, and the end of a royal guessing game with news of a pregnant princess. People magazine celebrates the biggest pop culture moments in a 48-page special year-end section featuring the "25 Most Intriguing People of 2012."