Olivia Munn Opens Up About Her 'Magic Mike' Topless Scene In The June/July Esquire
<em>Apprentice</em> contestants get the Donald Trump comb-over
March 3rd, 2013 10:00am EST |
By:
SheKnows Entertainment
Add to My News
Premiering March 3 at 9/8c, Celebrity Apprentice will pit 14 past contestants against each other in an epic all-star battle of the boardroom. But who has what it takes to be Trump? We see how four of the show's stars measure up in the head honcho's infamous coif.
Dee Snider
Frontman of the heavy metal band Twisted Sister, Dee Snider has rocked many hair misses over the decades — he's hit the stage in a mullet , a skullet , the Steven Segal , and what we like to call the Top Ramen . Perhaps his sketchy hair history makes the Trumpster's comb-over look tame, because we actually think this look is an improvement over his current style.
Penn Jillette
One half of the magician duo Penn and Teller, Penn Jillette should employ some slight-of-hand to make this hair Don't disappear. Typically, we're not ones to advocate the long ponytail on dudes… but, hey, Penn's got his style and, in this case, we think he should stick to it. Trump's caramel-colored comb-over dulls down this feisty fella — he looks less like the Vegas showman he is and more like Drew Carey dressed as an investment banker. Besides, the comb-over clashes with Penn's goatee, and that's totes a no-go.
Gary Busey
Gary Busey's hair, much like Gary Busey, doesn't abide by conventional mores. And much like the man it grows atop, it's slightly askew. His wacky 'do — which appears to be under siege by static electricity — is a unique marriage of unkempt and over- or under-styled . So, similar to Dee Snider, Busey actually looks okay in Trump's signature hairstyle. Not to mention, the kooky actor kind of looks like he could be Trump's kin! Perhaps he's the hotel tycoon's "hair" apparent?
Stephen Baldwin
He may have the least acting notoriety of the Baldwin brothers, but Stephen Baldwin — the youngest bro — does have a pretty fabulous head of hair. It's thick, full of body, and generally styled well . Ditching his decent 'do for the comb-over does baby Baldwin no favors. If we were privy to the boardroom drama, we'd do Stephen a favor and give this hot mess of hair the ol' "you're fired."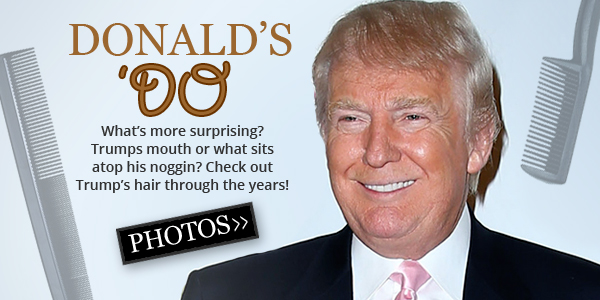 Angelina Jolie Reveals She Underwent Preventative Double Mastectomy
Olivia Munn Opens Up About Her 'Magic Mike' Topless Scene In The June/July Esquire