Real Housewife Kelly Bensimon Shows Off Her Hardbody In A White Bikini -- Hot Or Not?
3 years later: Couric to push Sue Paterno on Sandusky abuse
February 6th, 2013 4:02pm EST |
By:
SheKnows Entertainment
Add to My News
How much did Sue Paterno, Joe Paterno's widow, know about the Jerry Sandusky abuse? Katie Couric hopes to find out Monday.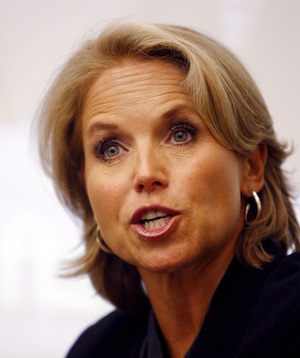 It likely won't be a pleasant interview. Katie Couric is sure to push Sue Paterno with questions about how much she and her late husband, Joe Paterno, knew about the Jerry Sandusky abuse.
In Sue Paterno's first interview since the Pennsylvania State University scandal, Couric talks to Sue in an exclusive sit-down which will air Monday, Feb. 11, 2013 on ABC.
The head coach of Penn State's successful football program since 1966, Paterno died from lung cancer just a few months after his longtime assistant coach, Jerry Sandusky, was publicly accused of molesting several boys on Penn State grounds. Joe Paterno's wife, Sue Paterno, has yet to speak out on the tragic events. That will all change on Monday.
During grand jury testimony, assistant coach Mike McQueary said he told Joe Paterno he witnessed Jerry Sandusky sexually assaulting a young boy and told Joe Paterno. While Joe Paterno was never charged any wrongdoing given his untimely death, the FBI later found he did in fact conceal Sandusky's actions for several years in order to protect the reputation of Penn State.
What will Sue Paterno reveal to Katie Couric? It's not clear from the short promotional statement released about the upcoming interview, but given Katie Couric's history of asking tough, often uncomfortable questions, we have no doubt her sit-down with Sue Paterno will be riveting.
Despite the fallen legacy of her husband, many still stand by Sue Paterno. Said one fan on Katie Couric's website, "She is a wonderful woman and deserves nothing less than pure respect. She and JoePa gave so much to Penn State and all the students — not just football players…We all love JoePa and SuePa…2 of the best people that ever walked this earth."
The Katie Couric interview with Sue Paterno airs Monday, Feb. 11, 2013 on ABC.
Photo courtesy of Bizu/WENN.com
Kim Kardashian Lashes Out At Twitter Follower Who Slams Her Parenting Skills
Real Housewife Kelly Bensimon Shows Off Her Hardbody In A White Bikini -- Hot Or Not?