Rihanna Shares Topless Photo & Close-Up Of Her Butt In A Sexy Denim Thong
SheKnows book club author chat: <br><em>The Care and Handling of Roses with Thorns</em>
September 19th, 2012 12:31pm EDT |
By:
SheKnows Entertainment
Add to My News
Join us for a live Facebook chat with Margaret Dilloway, bestselling author of our current SheKnows Book Club pick: The Care and Handling of Roses with Thorns.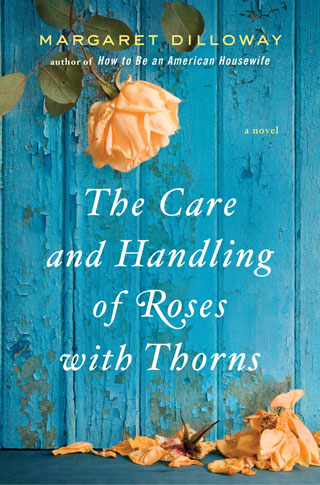 The Care and Handling of Roses with Thorns is our SheKnows book club pick for August and September 2012, and we're excited to be able to give you the chance to speak directly with author Margaret Dilloway next week! Margaret's debut novel, How to Be an American Housewife, received wonderful reviews from critics and readers alike, and The Care and Handling of Roses with Thorns is receiving similar acclaim.
On Monday, Sept. 24, join Margaret and the SheKnows Book Club bloggers on Facebook to talk about this amazing novel. Margaret will be ready to answer questions on her Facebook page at 5 p.m. PDT , so come armed with your best thoughts and insights about the book! And if you haven't had a chance to read The Care and Handling of Roses with Thorns, you still have the weekend to power through it and consider what you want to ask Margaret come Monday.
About The Care and Handling of Roses with Thorns
Gal Garner is 36 years old and single, and she likes it that way. She spends her days at her job as a high school science teacher. Her evenings and weekends, she spends with her beloved roses. After all, Gal's dream is to breed a prizewinning rose one day, but for now, she's content with roses being a hobby. Gal needs something to take her mind off of her real life; her failing kidneys mean that Gal spends too much time thinking about her health and not enough enjoying herself.
When Gal's niece Riley arrives on her doorstep, Gal is shocked. After all, she's not equipped to deal with a teenager, much less one with abandonment issues. But Gal digs deep and makes as much room as she can for Riley in her life. After all, it's not the girl's fault that Gal's sister is an irresponsible mother. As Riley worms her way into Gal's heart, she changes her aunt's life and makes Gal realize what she's been missing all along.
Don't miss this great book discussion and the opportunity to ask Margaret Dilloway your questions about The Care and Handling of Roses with Thorns on Monday, Sept. 24, at 5 p.m. PDT on Margaret's Facebook page.
More reading with authors
New author we love: Lydia Netzer
New author we love: Mia March
SheKnows book club author chat: The American Heiress
Maxim's 2013 Hot 100 Party Pics: Miley Cyrus, Kellie Pickler & More!
Rihanna Shares Topless Photo & Close-Up Of Her Butt In A Sexy Denim Thong