Justin Bieber Gives Lawyers A Punk Attitude During Deposition
'Savages' Movie Review: Two Pot Dealers And A Girl
July 6th, 2012 11:07am EDT |
By:
SheKnows Entertainment
Add to My News
Savages is about what you think -- people who are cruel, hostile and have reverted to a more animal nature. Which is ironic given that marijuana is supposed to make people happy and mellow. Could this fascinating metaphor for capitalism be director Oliver Stone's best work in years?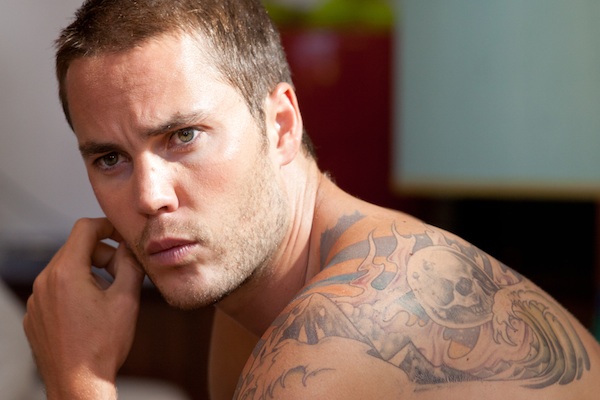 Given humanity's savage roots, it makes sense that two alpha male pot lords, Ben and Chon , manage to share one alpha female hippie-chick, Ophelia . And when I say share, I mean share. How can that be? She loves them both.
Ex-NAVY seal Chon, who verges on the edge of post-traumatic stress disorder, is Ophelia's earth between her legs, and the free-thinking Ben, who brings computers to kids in Africa, is her soul. It may sound strange, but lovely, waif-life "O," as she calls herself, seems pretty darn happy about the arrangement.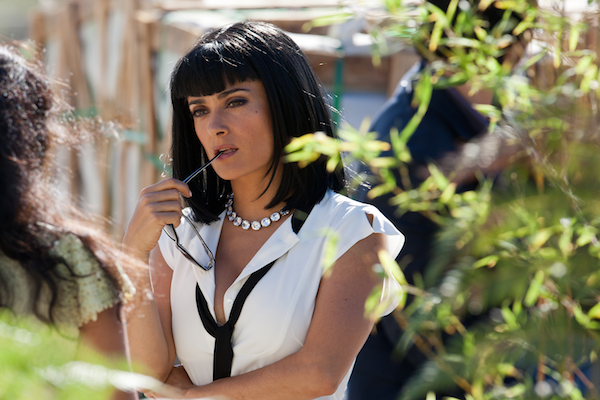 That is until the Mexican drug cartel tries to make a deal with Ben and Chon that isn't a fun high. The marijuana seeds Chon brings home from Afghanistan grow pot with a 10 times higher than normal THC level and if the Mexicans are going to remain competitive, they need to get in on some of that. In what may be her best role since Frida, Salma Hayek plays Lorena, the Mexican drug lordess in a dull black wig that keeps her hard head on straight. She's tough and has a penchant for chopping off heads. So when she kidnaps O, it's a whole new drug deal. But that's where Savages succeeds -- in facing the dark, greedy, power-hungry side of humanity head on.
John Travolta turns on the slime as the dirty D.E.A. who may or may not have Ben and Chon's back. A wonderfully ugly Benicio Del Toro plays Lado, Lorena's creepy henchman. Director Oliver Stone manages to turn an amoral threesome into a believable love story amidst the blood and violence.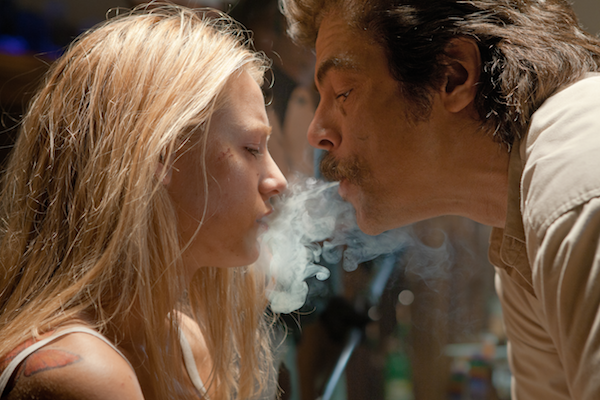 Photo Credits: Universal Studios
Scarlett Johansson Expecting First Child With Fiance Romain Dauriec
Justin Bieber Gives Lawyers A Punk Attitude During Deposition