Justin Bieber Posts & Deletes Steamy Dance Videos With Selena Gomez
Rihanna Up For Whitney Houston Biopic?
February 27th, 2012 10:35am EST |
By:
SheKnows Entertainment
Add to My News
Rihanna could be set to play Whitney Houston. The "We Found Love" hit-maker has topped a shortlist of stars tapped to potentially play Houston in a motion picture tribute to the tragic singer.
Rihanna has shot to the top of a shortlist of actresses being courted to play Whitney "Nippy" Houston on the silver screen.
The story of the "I Will Always Love You" songstress' childhood on the tough streets of Newark and Orange, New Jersey and her subsequent rise to pop superstardom is allegedly being turned into a biopic by her mentor Clive Davis.
And get this: We hear the "Rude Boy" pop princess is in the running for the role of Whitney.
Davis discovered Houston as a teenage gospel phenomenon in the early 1980s. The music mogul signed the Jersey Girl to his label and spearheaded her eponymous 1985 blockbuster.
Now he's at the helm of a proposed movie about her life, , Britain's The People said Sunday. Clive's been working on the script of a Whitney biopic for months, according to insiders.
"Clive wants to get the script done and start filming as soon as possible. Whitney knew about the project and was excited to see where it would lead," a spy squealed to The People.
"It's hoped the biopic will be as successful as [the] Tina Turner movie What's Love Got To Do With It, which landed two Oscar nominations for Angela Bassett and Laurence Fishburne, who played Tina and Ike Turner."
In 2010, Rihanna turned down the role of Rachel Marron in a remake of Houston's 1992 film The Bodyguard. The island-born beauty instead opted to make her cinema premiere blowing up alien water robots in the upcoming April blockbuster Battleship.
The singer, a frequent Tweeter, hasn't commented on the dish linking her to the Whitney role.
RiRi's facing stiff competition for the part, however; also on the wish-list to play Whitney are Jennifer Hudson -- who performed a moving tribute to Whitney at this month's Grammy Awards -- and former American Idol Jordin Sparks, Houston's co-star in the summer movie musical Sparkle.
"Whip My Hair" hit-maker Willow Smith, the 11-year-old celebutot of Will Smith and Jada Pinkett-Smith, is reportedly being lined up to play young Whitney.
Vivica A. Fox's name has also been tossed around as a potential casting.
But if you ask '90s teen star Brandy Norwood, no one can play "The Voice" quite like she can. "The Boy is Mine" songstress, now 33, grew up worshipping Whitney. She watched The Bodyguard on repeat and often practiced her own crooning with the help of Houston's pop hits.
When Brandy released her own self-titled debut album in 1994, she cited Whitney, 48, as an influence for its Grammy-winning sound. The singer/actress finally got to work with her idol in the 1998 made-for-TV musical Cinderella.
Before the pop queen's death, the former Moesha star threw her hat into the ring for the lead role in a potential Whitney biopic.
"My dream role would be to play Whitney Houston. I would love to play Ms. Whitney. I have her personality down pat, her 'isms' down pat," said Brandy, who is the older sister of Whitney's on-again/off-again beau, singer/reality star Ray J.
"Nobody can play Whitney like me," she added.
Houston was found dead in the bathtub of a suite at The Beverly Hilton Hotel on Feb. 11. Her death remains under investigation. The results of toxicology tests are expected in the next two months.
Is it too soon for a Whitney movie? What singer/actress would be the right choice to play the pop diva?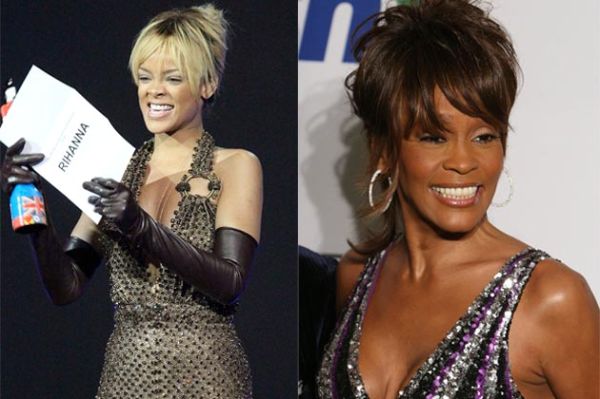 Photo Credits: Splash News , PR Photos
Olympic Ice Dancers, Danica McKellar Join 18th Season Of 'Dancing With The Stars'
Justin Bieber Posts & Deletes Steamy Dance Videos With Selena Gomez