New Daft Punk Track Featuring Jay-Z Leaks Online, But Is It Real?
Chris Brown Freaks Out On Twitter
November 19th, 2011 8:44am EST |
By:
SheKnows Entertainment
Add to My News
Chris Brown's Twitter account became the scene of his latest public breakdown when the Fame singer lashed out at his haters yesterday. Read what he wrote before he deleted nearly everything!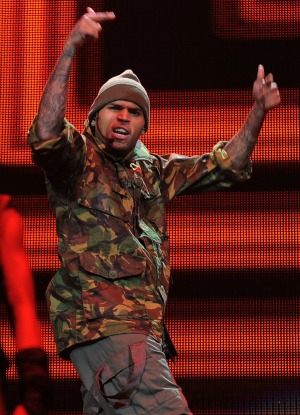 Chris Brown is throwing tantrums again. The Fame singer totally freaked out on Twitter yesterday because he was feeling a little sensitive.
Apparently some detractors were giving him a hard time over his upcoming American Music Awards performance and the fact that he beat up Rihanna. Brown caved in to the trolls and gave them exactly what they wanted: A good old-fashioned temper tantrum.
Chris Brown freaks out after GMA appearance
>>
"Don't say s**t to anybody and everyone feels its cool to attack me. GROWN ADULTS!!!! That s**t happened three years ago," Brown tweeted. "TWITTER GETS WACK REAL FAST! I LOVE ALL THE POEPLE WHO SUPPORT MY MUSIC! i never said i was a LEGEND. people please grow up."
"Ive never dealt with so much negativity in my life! its to the point now that its just ridiculous! IM NOT A POLITICIAN! MY MUSIC DOESNT PROMOTE VIOLENCE nor will it ever! only thing it will increase is the pregnacy rate!"
New Rihanna video reenacts Chris Brown beating
>>
"I wake up thinking of living my life..... YOU wake up thinking of me! NOW I REALLY CANT WAIT FOR THE AMA's! u dont have to respect me now... but u will."
He added, "I know a lot of you wack ass celebrities probably wanna f**k my ex, but talking s**t on me wont get you far! and to be REALLY HONEST, ya'll wonder why n***a spazzes all the time?"
Brown later deleted nearly his entire Twitter timeline, leaving only one message from several days ago reading, "Live LIFE!" as well as a couple of retweets about how great he is.
Is Chris Brown making things worse for himself by throwing fits on a regular basis, or does he have a point? Sound off in our comments section below!
Image courtesy WENN.com
Photo Credits: WENN.com
Idina Menzel (AKA Adele Dazeem) Sings 'Frozen' Hit 'Let It Go' With Jimmy Fallon And The Roots On Classroom Instruments
New Daft Punk Track Featuring Jay-Z Leaks Online, But Is It Real?