Jewel Sizzles In A Sexy, Low-Cut Gold Dress At The Rockefeller Center Tree Lighting
Katie Couric's New Talk Show To Be Called 'Katie'
August 23rd, 2011 8:06am EDT |
By:
SheKnows Entertainment
Add to My News
If your name was Katie Couric, what would you name your talk show? Katie, perhaps?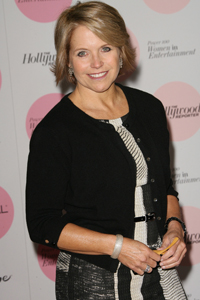 Katie Couric has one of the most recognizable names in the world and ABC is apparently banking on her first name to draw viewers into her new talk show.
According to TVNewser, Katie Couric's new ABC talk show is simply going to be called Katie.
Katie Couric is all about interacting with her loyal minions and according to the report from TVNewser, she'll launch a website called www.TalkToKatie.com so fans can stay connected with her.
Katie Couric's new syndicated talk show on ABC>>
After working with CBS Evening News for five years, Katie Couric announced in May she was leaving.
It was then announced she signed a deal with ABC/Disney for her very own syndicated talk show. Katie will be paired back up with Jeff Zucker who was the executive producer of Today when she co-anchored for the peacock network.
We know, keeping Katie Couric's countless past jobs straight is exhausting.
There's still a wait for fans to tune into Katie, as it doesn't premiere until Sept. 2012. When it does, it will grab the 3 p.m. time slot on ABC-owned affiliates.
Will you be tuning into Katie or has her gift of gab fizzled?
What do you think of Katie Couric's talk show venture? is Katie too simple of a name?
Photo Credits: PR Photos , Wenn
Justin Bieber's Bodyguard Angers Australian Locals While Singer Learns To Surf
Jewel Sizzles In A Sexy, Low-Cut Gold Dress At The Rockefeller Center Tree Lighting