Beyonce, Jennifer Garner, More Celebs Campaign For Girl Empowerment, Want To 'Ban Bossy'
Josh Duhamel To Replace Regis Philbin?
February 7th, 2011 2:41pm EST |
By:
SheKnows Entertainment
Add to My News
Regis Philbin has announced he plans on retiring from Live with Regis and Kelly -- and sources are saying actor Josh Duhamel may be the frontrunner to take his spot.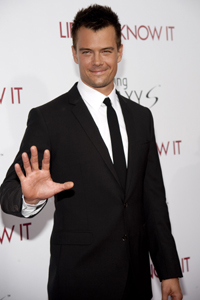 Live with Josh and Kelly? Sources from ET are saying that Transformers actor Josh Duhamel may be replacing Regis Philbin once he retires. The hunky actor is a favorite of Ripa's -- and we can see why!
Fergie was asked if the rumors were true -- and she remained coy. "Wow! Do they have Vegas odds on that? Right now he is actually in New York filming New Year's Eve."
When she was asked again -- she would only say, "You're going to have to ask him that question."
What does Regis Philbin think of Duhamel replacing him? "I haven't heard that name yet. That's a good name. Actors have careers that are pretty good to them -- this is a daily thing every morning, so they've got to consider that before they get involved."
Duhamel's publicist flatly denied the rumor, saying, "There is no truth to the story."
Other names that have been thrown around as possible replacements include Anderson Cooper, Survivor host Jeff Probst, Carson Daly and even Ripa's husband Mark Consuelos.
Tell us: Who do you think should replace Regis Philbin? Read on for more Fergie and Josh Duhamel
Did Josh Duhamel cheat on Fergie?
Fergie releases her wedding photos
Fergie wants to cheat on Josh Duhamel
Photo Credits: Courtesy of SheKnows
Britney Spears Takes The Plunge In A Low Cut Michael Costello Gown At Elton John's Oscar Bash
Beyonce, Jennifer Garner, More Celebs Campaign For Girl Empowerment, Want To 'Ban Bossy'