Newlywed Kerry Washington Covers The August Issue Of Vanity Fair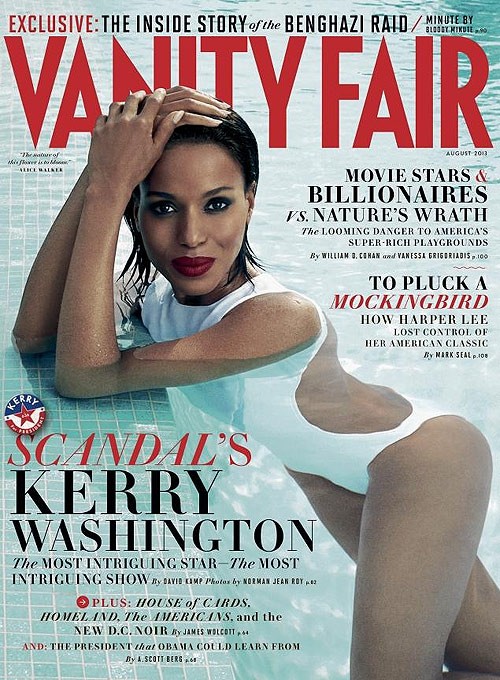 Sexy Scandal star Kerry Washington, 36, was married to San Francisco 49ers cornerback Nnamdi Asomugha, 31, on June 24th in a secret ceremony in Hailey, Idaho.

The actress is featured in the August issue of Vanity Fair magazine, and while she doesn't discuss her relationship (because the news that the couple are dating came shortly before they were married), she does give some insight to her "Scandal" character, saying she's very proud of the inspiration she's given to women.

"One of the most profound things for me about the show is the number of white women of all ages who come up to me and say, 'I want to be Olivia Pope,'" she says. "It's especially profound in a place like South Africa. It's called 'The Fixer' over there, and it just started its second season.

"The fact that white women can see this woman of color as an inspirational character is revolutionary, I think, in the medium of television. I don't think white women would feel that way about Olivia if her identity as a woman, period, wasn't first in their mind."

Kerry also reveals how she honed her acting skills, saying that she received some good on-the-job training when she performed in a troupe educating teens about safe-sex.

"We would stay in character after the show, and the audience would interact with us," she says. "It taught me the importance of really understanding everything about who you're playing, because you never knew what question was going to come."

Check out more of Kerry and read her full interview in the August issue of Vanity Fair magazine.