Newlywed Kate Middleton Is 'A Natural' At Royal Life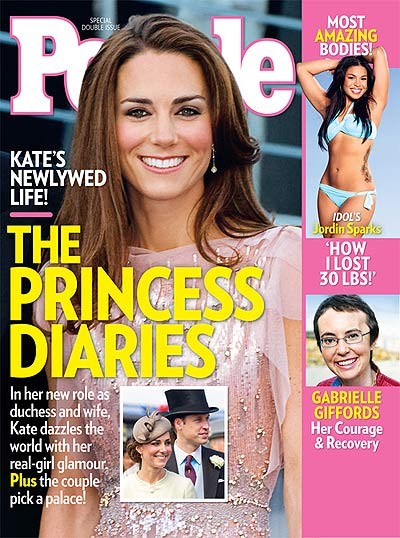 Confidently embracing her new role as duchess and wife - and with a little help from her husband and stepmother-in-law - PEOPLE reports in this week's issue on the newly minted Duchess of Cambridge, Princess Kate, as she dazzles the world with her real-girl glamour at a series of high-profile events and prepares for her North American tour.

She's been a member of the royal family for just eight weeks, but Princess Kate, 29, has long made one fact perfectly clear: She's got this. Catching her breath in the weeks following her grand April 29 nuptials, she quietly sent off thank-you notes and grocery shopped near the couple's farmhouse in Anglesey, Wales. It wasn't long, though, before she hit the royal ground running. Attending four major events in five days - including a benefit gala, the Trooping the Colour ceremony honoring the Queen, festivities for Prince Philip's 90th birthday and the Garter ceremony - she displayed a "natural confidence," says a source who knows her well.

But all of that was just a warm-up for her biggest official engagement yet: an 11-day tour of Canada, including a weekend stopover in Los Angeles, kicking off on June 30. During her time in L.A., Kate will dutifully support her husband's charities, including a fundraiser for his foundation at the Santa Barbara Polo Club and a black-tie dinner benefiting the British film industry. Given her performance at the glitzy benefit for the ARK children's charity in London on June 9, Hollywood's A-listers had better prepare to be eclipsed. Resplendent in a Jenny Packham gown, Kate "shone like a film star," says guest Fraser Nelson, editor of The Spectator magazine. "It was electric."

Not that the hype is going to her fascinator-topped head. "She's completely taking it in her stride," a palace insider says of the princess, who is set to move part-time into Kensington Palace with Prince William this summer while maintaining their rustic life in Wales. Her recent busy schedule is Iess a crash course on royal life than a consequence of the Windsors' frenetic June. "Now she's a member of the royal family, she's got to get involved with these things," a friend of William's tells PEOPLE. After eight years as the prince's girlfriend, adds the source, "she was acclimated over a long time."

Still, Kate's intense week of public engagements might have proved overwhelming were it not for a few key counselors: Camilla, who has offered guidance on life as a royal wife; Helen Asprey, a longtime member of William and Harry's personal staff who now accompanies Kate to most engagements; and Prince William, 29, who makes sure to keep watch over her. "It's very much the 'home team' advising," says a palace source. When William and Kate do split up to mingle, as they did at the ARK gala, "Catherine is completely in control," says the palace insider.

That much is clear from her savvy fashion choices, which she makes without the help of a stylist. Displaying an uncanny knack for balancing designer glam with budget-friendly clothes that reflect a shrewd sensitivity to Britain's ailing economy, "Kate is the one who is choosing everything," says a fashion source. "She knows exactly what she likes, and she mostly goes to fittings alone."

Next up in her packed engagement diary: Canada and L.A. Patrick Jephson, a former private secretary to Princess Diana, cautions that the rigors of a royal tour are vastly different than anything Kate has previously experienced. "All eyes will be on her," he says. "The many days of a tour are a test of stamina, patience, and good humor."

In that case: Prepare to be charmed, North America. "Kate doesn't seem at all fazed by anything," says Joe Little, managing editor of Majesty magazine. "She's had the most promising of starts."


*Also In This Week's 'People'*

-Inside Anthony Weiner & Huma Abedin's Marriage: "She Wants What's Best For This Baby," Says Source
-Gabrielle Giffords Photos: "It's Miraculous How Well She Is Doing" Says Dr. Richard Riggs
-Selena Gomez Health Scare: "I Was Just Very Malnourished"
-Ryan Reynolds: "A Friend Of Mine Told Me To Smile More"


And a special PEOPLE Exclusive:

Jordin Sparks Leads 'PEOPLE's Most Amazing Bodies: The Former Size 14 Singer Poses For Her First-Ever Bikini Photo Shoot! "I Feel Good! I Love That I Still Have My Curves," Sparks Tells 'People'

Plus: Top 10 Body Moments Of The Year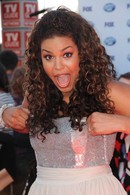 'PEOPLE' celebrates the Most Amazing Bodies with American Idol's Jordin Sparks posing for her first-ever bikini photo shoot in this week's special double issue featuring 27 pages of celebs, swimsuits, and diet secrets. The former size-14 pop star shows off her new trim size-8 figure and reveals how she lost 30 lbs. in four months. "Before, if I were to wear a bikini, it would just be in front of my mom or really close friends with a coverup," says Sparks, who credits eating smaller portions and taking Zumba, the popular Latin dance-inspired cardio class, for her "sexier" silhouette. "I feel good!" she tells PEOPLE. "I love that I still have my curves. I definitely didn't want to lose those."

PEOPLE's Top 10 Body Moments of the Year include Pippa Middleton's Bum, which became an instant phenomenon when she stepped out in a figure-skimming Alexander McQueen gown at the royal wedding; Charlie Sheen's Ripped Torso, one of the most shocking revelations to come out of the 45-year-old actor's "My Violent Torpedo of Truth" tour; and Cameron Diaz's Buff Biceps, an impressive gun show after training with her beau Alex Rodriquez in February. "The more I work on my body at this age," she said last year, "the better it gets."

In Looking Half Their Age, all the diet and exercise secrets that help six 40-something stars - Courteney Cox, Halle Berry, Demi Moore, Gwen Stefani, Padma Lakshmi, and Jennifer Aniston - defy gravity. Cox, 47, has told PEOPLE, "I'm on a low-carb diet. I drink a lot of coconut water. I don't drink caffeine." The Cougar Town star adds, "I do drink decaf coffee - but it has to be with Coffee-mate Carnation fat-free vanilla milk." Aniston, 42, admitted to PEOPLE back in February that "Pizza and Mexican food are my weakness." But, "You have to have chips and salsa every now and then. You just have to!" And Moore, 48, told PEOPLE last year that she and husband, Ashton Kutcher, have "taken up Bikram yoga, where you sweat like crazy."

Kellan Lutz, 26, leads the No Shirt Required pack of 11 hunks who demonstrate when the heat is on, the tees come off. The Twilight heartthrob doesn't just swim, box, and play football to look good. "When I don't have the chance to go to the gym, my whole attitude's kind of down," Lutz told PEOPLE. "When I can go to the gym or hike, it just builds up my energy and my confidence."

In Bikini Confessions, three stars - Kristin Cavallari, Serena Williams, and Paris Hilton - open up about facing body bullies and reveal the secrets behind their fabulous figures. Hilton says that at her heaviest weight of 125 lbs., "I was wearing a skintight leather catsuit and someone said I was pregnant! That was just hurtful," the 30-year-old reality star tells PEOPLE. Tennis superstar Williams admits that "a DD chest" like hers "is not what you normally see in the locker room." She also says "I feel like my legs aren't as tight as I like them to be," adding, "I don't step on scales." Cavallari, 24, admits it was difficult adjusting to photographers catching her in a bikini all the time. "I remember filming The Hills and I saw a photo of myself in a bikini and thought I looked really fat, and I went on a crazy diet. It's hard when people judge you."

Plus: Five celebrities - April Ross, Clementine Ford, Cheryl Burke, Kristin Chenoweth, and Annie Ilonzeh - reveal their true sizes (we checked the labels!) in Real Bodies, Real Sizes and open up about embracing their body types. "I'm small, but I'm not a stick," the 4'11" Chenoweth tells PEOPLE. "I now try not to eat past 6 p.m. I'm not one to deny myself dessert, though; I just share it so I don't feel like I'm missing out," says the Broadway and TV star. Dancing with the Stars champ Burke admits "When the negative comments about my body came out [in 2008], it was hard to bounce back - especially when you're on a show where you have to wear skimpy outfits and there's no airbrushing." She adds, "Now I can't remember the last time I weighed myself. As long as I'm a size 4, stay healthy and look in the mirror and think I look great, then that's it for me."