Newlywed Blake Lively Would Love To Have 30 Kids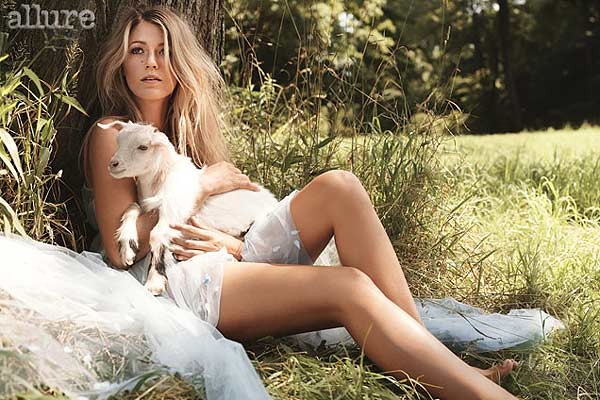 Blake Lively has been very busy lately - she married her Green Lantern co-star Ryan Reynolds in a secret ceremony in South Carolina over the weekend after less than a year of dating (they met on the set of the film, which was actually pretty good -- don't believe the critics); and she's been spotted around New York City recently filming scenes for the final season of her hit CW show Gossip Girl.

The couple also recently bought a house in upstate New York, which is very reminiscent of the setting of her cover shoot for the October issue of Allure magazine, and stars in a down-to-earth, yet very sexy, photoshoot.

The 25-year-old star has been quiet about her relationship with reynolds; "I'm a very shy person," she says; "I can be outgoing, but I'm also very private."

But she has given some hints to where the couple's relationship was headed; revealing, "I've always wanted a big family."

She loves kids -- one of the images from her shoot features her taking a picture of her niece and nephew, Kate and Baylen; and she says she'd love lots of children, but her career would make it difficult to have as many as she'd like.
"Oh, I'd love 30 if I could," she says.

Blake's ex-boyfriend, her Gossip Girl co-star Penn Badgley, has spoken up about her recent nuptials with Reynolds, wishing the couple well.

"I actually didn't know until last night, but I think it's fantastic," he tells People.com. "I couldn't be happier for her."

Badgley is currently dating actress Zoe Kravitz.

Read more about Blake in the October issue of Allure Magazine, and see more at Allure.com!