Newly Single Taylor Swift Shows Off Her Figure In A Revealing Gown At People's Choice Awards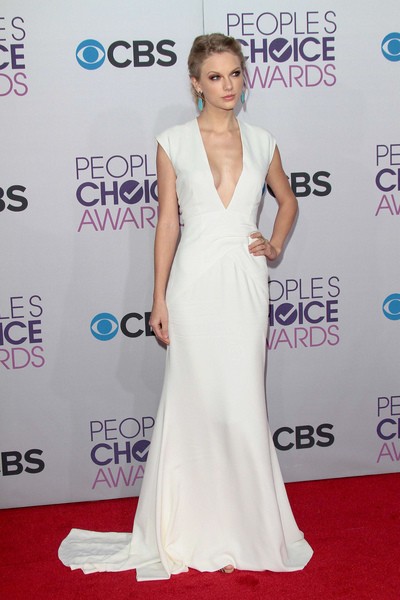 Taylor Swift is maturing into a sexy young woman. Often a conservative dresser, the pop star, 23, attended the 2013 People's Choice Awards on Wednesday looking amazing in a white Ralph Lauren gown with a plunging neckline. She actually showed some cleavage!
What do you think of that, Harry Styles? Swift and the One Direction singer recently called it quits after a two-month relationship. The duo got together early last year, broke up, and reunited in November. However, the relationship wasn't meant to be and they reportedly split up after a huge fight while vacationing in the British Virgin Islands.
The couple also reportedly had a tough time coordinating their schedules because they are both touring.
Fortunately, Swift's personal drama didn't interfere with her professional duties last night. She happily accepted her award for "Favorite Country Artist" at the event.
We can't wait to see who she dates next and what the resulting songs will be!