New York Jets Quarterback Mark Sanchez Loves Broadway & Has A Crush On Jennifer Aniston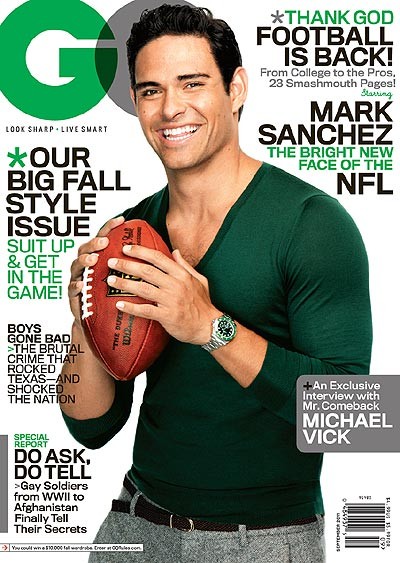 New York Jets Quarterback Mark Sanchez shows off his killer abs & sexy smile in the September issue of GQ magazine.
Entering his third season as the Gang Green starter, Sanchez, 24, hopes to become the next Joe Namath - and he reveals that he's actually got a lot in common with "Broadway Joe." In fact, he's taking Namath's infamous nickname to a whole new level.

During his interview with GQ, Sanchez revealed that he's a huge fan of Broadway shows - he's seen nearly all of them and was even a presenter at last year's Tony Awards. But he feels a certain connection wth the performers.

"Their life is so regimented—like mine," he says. "They have eight shows a week. They have to take care of their bodies, stretch, eat right, take care of their voices. You know, their voice is like my arm."

Sanchez also shares what's on his DVR during the interview - several episodes of Glee and Justin Bieber's "Never Say Never" documentary film. When asked if he's a fan, he simply repied, "Yes."

Oh, and did we mention that he's got a huge crush on Jennifer Aniston?
He explains what is it about her that mystifies him.
"She's experienced. I can't help but want somebody that's, I don't know, athletic," he gushes. "Family is big, my mom has to love her - I mean, LOVE her."

Check out more hot pics of Mark & read his full interview at GQ.com. The September issue is on newsstands nationwide August 23, 2011.