New Year's Resolutions For 'Grey's Anatomy,' 2011 Edition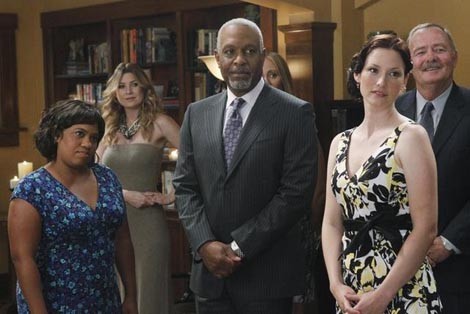 With 2010 drawing to a close, it's time for the top 5 New Year's Resolutions for the "Grey's Anatomy" cast and crew! This season of "Grey's Anatomy" has been full of changes, challenges and plot twists, and no doubt the 2011 episodes will continue to have that same depth of drama. However, certain members of the team should endeavor to adopt some specific New Year's Resolutions for 2011, in light of events which have taken place during the first half of Season 7. Naturally, this article contains spoilers—but you can catch up on everything "Grey's Anatomy" each week with the episode recaps here on Starpulse.
"Grey's Anatomy" New Year's Resolution: Cristina needs to resolve to stop being so indecisive.
 The dramatic finale of Season 6 left most of the Seattle Grace doctors struggling to recover from both emotional and physical trauma, but none have suffered and struggled so long as Cristina (Sandra Oh) during Season 7. The first half of this season has continued to document her attempted return to surgery—and subsequent failure—plus her quitting the program and experimenting with bartending. She married Owen (Kevin McKidd) in the season premiere, who doesn't appreciate Meredith (Ellen Pompeo) and her tough-love approach. Let us all hope that Cristina's New Year's Resolution will be to make a final decision to return to the job she loves: Cutting people open. 
"Grey's Anatomy" New Year's Resolution: Meredith's resolutions should include getting over herself.
 Meredith is a passionate, fiercely loyal, protective best friend to say the least. She and Cristina had been each other's "person" since Season 1 of "Grey's Anatomy." Sure, they've had their ups and downs—who on the show hasn't?—but now that Cristina happens to be Owen's wife, Meredith needs to take the hint and realize she's been somewhat displaced. The heated argument between her and Owen in episode 10 should have been her first clue. "I don't want that around my wife who is struggling to just hold on," Owen yelled. "Most people don't tell the guy with the gun to shoot them. Most people are like Cristina, most people are afraid," he went on. "She isn't you, Meredith." In 2011, it's time for Meredith to realize she can't always be central in everyone else's decisions, no matter her intentions.
"Grey's Anatomy" New Year's Resolution:  Calie should resolve to think less with her 'vajayjay.'
 Season 7 of "Grey's Anatomy" has been full of drama for Calie (Sara Ramirez) and her paramour, Arizona (Jessica Capshaw). The pair broke-up in episode 7, when Arizona got on a plane without Calie to fly to Africa and treat children. She returned at the end of episode 10, but Calie merely closed her door in Arizona's face without a word. Naturally, Calie had hopped back into bed with Mark shortly after Arizona split, allowing her vajayjay to once again make her decisions. In 2011, Calie should endeavor to look before she leaps into the shower with any coworkers. (Bonus: The slang "vajayjay" actually did start on "Grey's Anatomy," when Bailey (Chandra Wilson) was in labor back in 2006, according to The New York Times.)
"Grey's Anatomy" New Year's Resolution: Mark and Lexie's resolutions should be to talk more.
 Mark (Eric Dane) and Lexie (Chyler Leigh) have always had a passionate, turbulent relationship on "Grey's Anatomy." However, the pair seems to be beginning to repair the damage done to their bond with the kiss at the end of episode 10. Perhaps both of them should make a New Year's Resolution to talk more in 2011. Sure, throwing each other onto a flat surface can be a great way to make-up, but until the two begin to talk more and react less, they'll never figure out where the relationship is going. Not that the majority of viewers are complaining about those steamy love scenes—especially ones which involve Eric Dane topless.
"Grey's Anatomy" New Year's Resolution: More guest star appearances from the writers.
 No one can fault Addison (Kate Walsh) for leaving Seattle Grace and "Grey's Anatomy" to have her own spin off, "Private Practice," but her guest appearances continue to be some of the best episodes each season.  She assisted Mark's pregnant daughter during a cross-over of both shows, and the writers have no lack of material for luring Addison back to Seattle Grace for another dramatic appearance. The loss of Izzie (Katherine Heigl) cost fans the reoccurring guest star appearances of Denny Duquette (Jeffrey Dean Morgan), whose handsome face and soft heart are sorely missed by many viewers. However, "Grey's Anatomy" Season 7 has delivered the delicious Scott Foley as a guest star as of episode 10, when he portrayed a patient in need of medical insurance whom Teddy (Kim Raver) volunteered to marry—and who could blame her? Let's all hope that the writers have a New Year's Resolution for continued great guest stars in 2011.
For more New Year's Resolutions for your favorite TV Shows, try:
New Year's Resolutions for 'Desperate Housewives,' 2011 Edition
New Year's Resolutions for 'Glee,' 2011 Edition