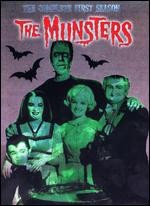 Relive the hilarious second season of
The Munsters
and their lives on Mockingbird Lane. Herman is a devoted dad who happens to be a monster. His wife Lily and Grandpa are vampires, while his son Eddie is a werewolf. Meanwhile, poor Marilyn is like other humans and is regarded as the "black sheep" of the family.
Fun Fact: The show's title was allegedly derived from the words "fun" and "monster."
More DVD releases this week...

Other TV DVD Releases:
The L Word
the Complete Second Season
Alias
the Complete Fourth Season
Looney Tunes
Golden Collection, Volume 3
Little House on the Prairie
the Complete Season Nine
Bewitched
the Complete Second Season
American Gothic
Complete Series
Hart to Hart
the Complete First Season
3rd Rock From the Sun
Season Two
Click here for more new TV shows on DVD
Click here for new movies on DVD