New Testament Hits Album, "The Spitfire Collection," Coming Feb. 13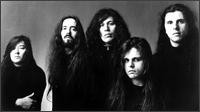 Testament
's classic late '80s/early '90s period has been well documented over the years by several compilations. However, the group's latter era has thus far slipped through the cracks as far as compilations go. In February, this will change, as
The Spitfire Collection
will be issued.
Consisting of tracks from such Spitfire/Testament titles as
The Gathering
,
Demonic
,
Live at the Fillmore
,
First Strike Still Deadly
, and
Live in London
, the fourteen track set chronicles an era that ultimately saw the original Testament reunite for a successful 2005 tour. As a result,
The Spitfire Collection
features both live versions of such Testament classics as "Practice What You Preach," "Over the Wall," and "Souls of Black," as well as such oft-overlooked studio tracks as "Careful What You Wish For" and "The Burning Times." With such bands as
Metallica
,
Megadeth
,
Slayer
, and
Anthrax
introducing the world to thrash metal during the 1980s, Testament was one of the few second wave thrash bands to make a strong impression on the charts – resulting in such renowned releases as 1988's
New Order
, 1989's
Practice What You Preach
, 1990's
Souls of Black
, and 1992's
The Ritual
.
Track Listing:
The New Order
Souls of Black
Practice What You Preach
Hatreds Rise
The Burning Times
John Doe
Careful What You Wish For
Down for Life
Riding the Snake
Over the Wall
The Preacher
Into the Pit
Trial by Fire
Disciples of the Watch