New 'Star Trek Into Darkness' Poster Released, First Trailer Debuts Dec. 6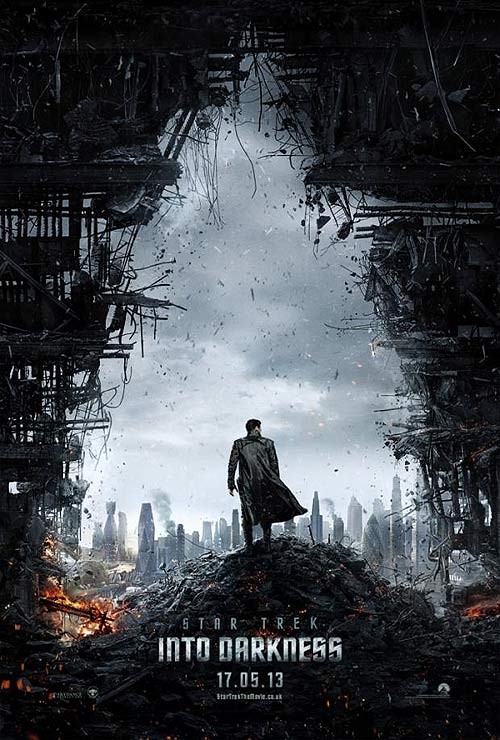 The first artwork for next year's Star Trek sequel, Star Trek Into Darkness, debuted online this week Paramount Pictures' new teaser poster for the film looks awfully familiar.

The highly anticipated sequel to J.J. Abrams' 2009 series reboot looks very similar to the artwork for The Dark Knight Rises, but instead of looking straight up and seeing the bat logo silhouetted in crumbling buildings, this time around we get the Starfleet logo blown out the side of a building (also quite reminiscent of 9/11) with a lone man (Kirk? Spock?) looking out over a city in ruin.

Little else is known about the film as of yet, but the first trailer is slated to debut online later this week and a nine-minute clip is set to run ahead of screenings of The Hobbit: An Unexpected Journey. The trailer wasn't expected until The Hobbit hit theaters, but Star Trek star Simon Pegg let slip on his Twitter page that the trailer would be out this Thursday.

"Star Trek Into Darkness trailer. Premieres online, this Thursday. Get ready to boldly go again," he writes.

Since the last film rebooted the saga and brought us back before all the events of the original and subsequent series even happened, anything goes -- and this time a powerful villain from the same organization as the crew of the Starship Enterprise (Benedict Cumberbatch) has terrorized Earth and left Starfleet in ruins. And now Kirk (Chris Pine), Spock (Zachary Quinto), Scotty (Pegg), Uhura (Zoe Saldana), Dr. McCoy (Karl Urban) and the rest of the Enterprise crew must race home and stop this "one man weapon of mass destruction" before it's too late.

Star Trek Into Darkness is set to open May 17, 2013. Check out the official site here.