New Seven-Time Tour De France Champion To Lance Armstrong: 'Sucks To Be You' (Video)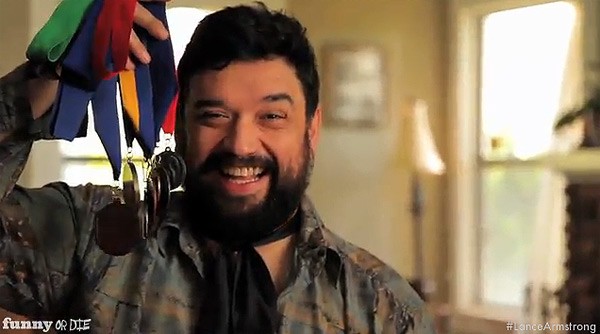 Since Lance Armstrong finally came clean to Oprah Winfrey last week, admitting he used performance enhancing drugs and underwent blood transfusions to help him dominate the sport of cycling for a decade, the jokes have begun.

Lance's seven Tour De France titles were stripped from him by the U.S. Anti-Doping Agency (USADA) last August; and he later stepped down as chairman on the board of directors of his Livestrong foundation.

Armstrong's confession during Oprah's exclusive interview sparked plenty of outrage, but also brought out some humor as well.

Livestrong was spoofed with "Liestrong" bumper stickers, where the 'i' is depicted by a needle and the 'o' a bicycle wheel and people used markers to color in the "L, I and E" on their yellow Livestrong Bracelets.

But Lance wasn't the only cyclist found to have been doping on the Tour, and so many others have been retroactively disqualified that there's now a new seven-time Tour de France champion by default.

Horatio Sanz stars in a hilarious new Funny or Die.com video that introduces the new champ, who has been "accused of drinking too much wine, smoking too many cigarettes" and "making love to too many women."
We think he says his name is "Gerard Bellenue", but the thick French accent has us guessing.

"I feel band for Lance. I always liked him -- he was always nice to me," says Gerard; who is very happy to be the "most successful and prolific cyclist of all time."

"What can I say? Sucks to be you!" he adds.

Check out the funny new video below (safe for work, but there is one "f-bomb").