New Picture Of Michael Jackson With His Children

Michael Jackson
's close friend, and former owner of the LA mansion that he was renting, has released a new family photo of Michael Jackson and his kids.
International real estate developer and close friend of Michael Jackson, Mohamed Hadid, spent some of Jackson's last days with him, and, is now speaking out about Jackson's health and state of mind during the last few weeks before his untimely death.
"Michael and his kids were just over for dinner three weeks ago," Hadid said in statement. "Our families got together regularly as our kids are about the same age, and we even spent last Thanksgiving together. He was healthy and strong and very excited about starting his new tour in London. His death comes as a complete shock to us. There was no indication whatsoever that he might not be healthy. He was an extremely kind and generous person and will be missed, but my family and kids will continue to be there for his children and family during this difficult time and beyond."
Michael Jackson's rented Carolwood home in Holmby Hills is located in the Westwood district of Los Angeles, Calif. and was designed and built by Hadid Development and Mohamed Hadid. The 22,000-square-foot mansion is located on one and one-half acres of land, is valued at $40 million, and is where Jackson spent his last days with his three children. Hadid and his family had previously lived in the mansion, which he built in 1999, for three years before selling it to a private investor. Jackson was leasing it for $100,000 a month from the investor, who purchased the property from Hadid in 2004.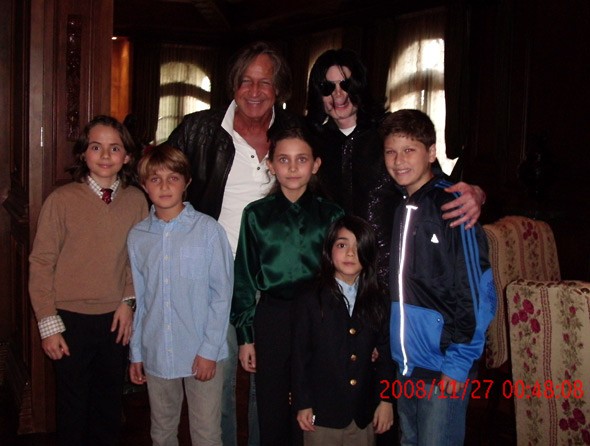 In this handout provided by Mohamed Hadid, Michael Jackson poses with real estate developer Mohamed Hadid, Hadid's children and Jackson's children Michael Joseph Jr. (far left), Paris Michael Katherine (center) and "Blanket" Prince Michael II (front center) on November 27, 2008 at the Jackson Holmby Hills residence in Westwood, California. Image courtesy Mohamed Hadid

BREAKING NEWS JULY 2:
OK! Magazine cover features dead Michael Jackson photo!
Michael Jackson's Funeral Service To Be Held At Staples Center In L.A.
REPORT: Did MJ sing about his drug addiction & predict his death in 1997?
Latest Michael Jackson news, photos, rumors, funeral reports & more!