New Orleans Benefit Concerts Bring Artists Together To Bring Artists Home

On Friday, January 11, indie-rockers
OK Go
unite with New Orleans's funk-rock favorites
Bonerama
for a show at Tipitina's.
OK Go spent the second anniversary of Hurricane Katrina in a studio in the Upper 9th Ward of New Orleans collaborating with Bonerama. With the help of producer Mark Nevers, they put together an EP that adds a brash, unmistakably New Orleans swagger to the OK Go's infectious rock. The collection, called "You're Not Alone", will benefit New Orleans R&B legend Al "Carnival Time" Johnson — who joins in on a cover of
Bob Dylan
's "I Shall Be Released" — as well as Sweet Home New Orleans, an organization dedicated to helping the thousands of local musicians scattered by the storm.
www.sweethomeneworleans.org
"New Orleans is one of the last places in America where music is truly a fundamental part of everyday life," says OK Go's Damian Kulash. "People get together on the weekends and parade through the streets just playing songs; 12-year-old-kids learn funk on the tuba; everyone actually dances. Life elsewhere in the world simply isn't as awesome. If we allow the culture of New Orleans to die by leaving its musicians marooned around the country, it will be a terrible blow to American music."
Johnson, who gave Mardi Gras its unofficial anthem with the R&B classic "Carnival Time," lost everything when Katrina destroyed his longtime Lower 9th Ward residence. Proceeds from You're Not Alone will go towards building a new Habitat For Humanity home for Johnson and provide funding for Sweet Home New Orleans to assist other similarly affected musicians with their housing needs. In honor of New Orleans' vibrant musical culture, the release date is set for February 5 — Mardi Gras 2008.
Earlier in the week on January 10, Jon Langford & Sally Timms of
The Mekons
, Patrick Hallahan of
My Morning Jacket
, Charles Bissell of
The Wrens
,
Kimya Dawson
(who recently contributed eight songs to the hit movie
Juno
), Timothy Bracy of
The Mendoza Line
, Janet Bean of
Freakwater
and Craig Klein, Mat Perrine, Eric Bolivar & Bert Cotton of Bonerama come together in a benefit for musicians displaced by Hurricane Katrina.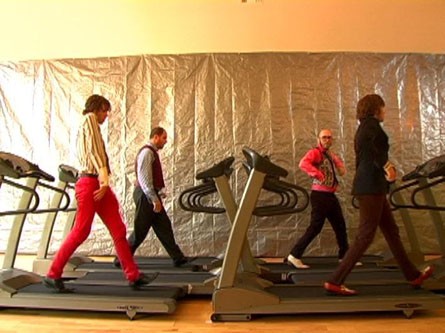 "Musicians Bringing Musicians Home III" is sponsored by Air Traffic Control and Future of Music Coalition, and will take place in the Parish Room of the New Orleans House Of Blues at 9 p.m. on Thursday, January 10. Admission is $10. The concert is the culmination of FMC & ATC's annual Artist Activism Camp, which brings together established and emerging artists to discuss best practices for artist advocacy. During the two-day meeting, participants go on a tour of New Orleans, visiting the Ninth Ward and hearing from some of the city's musicians about the efforts to revitalize their music community. www.atctower.net
EVENT DETAILS:
"Musicians Bringing Musicians Home III"
A benefit for Sweet Home New Orleans
Thursday, January 10, 2008 at 9 PM
The Parish Room at the New Orleans House Of Blues
225 Decatur St., New Orleans, LA
Tickets are $10 and available at www.hob.com/venues/clubvenues/neworleans or by calling 504-310-4999.
OK Go & Bonerama
Concert to benefit Al "Carnival Time" Johnson & Sweet Home New Orleans
Friday, January 11, 2008 at 10 PM
Tipitinas, 501 Napoleon Ave., New Orleans, LA. (504) 895-8477
Tickets are $20 and are available at
ticketweb.com
or the Tipitina's box
Office