New 'Once Upon A Time' Book Offers Clues To Show's Plot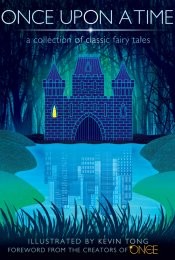 Forget Henry Mills' fairy tale book—'Once  Upon a Time' fans now have their own guide to Storybrooke's mysteries. An eponymously titled new edition of the fairy tales that drive the plots in 'Once Upon a Time' is now available on shelves and via e-tailers.

The 'Once Upon a Time' book includes thirty of the original stories from 'Grimm's Fairy Tales', and thus is not a book of the stories as they appear on the hit show. However, the show's creators, Adam Horowitz and Edward Kitsis, have included a foreword that details how the Grimm Brothers' original stories inspired them to create the show. "We wanted to write something that, for one hour each week, could transport our audience to a place where they could set everything aside and remember the hope they felt as children reading these tales for the first time," they write. "That feeling of hope—that one can transcend the circumstances into which he or she was born, or that one can find, no matter how difficult it seems, true love—was the idea we wanted to build upon, and thus, Grimm's Fairy Tales became a jumping-off point for our show." (Incidentally, this writer's favorite episodes of the show thus far are the ones written by Horowitz and Kitsis; they're the most suspenseful ones featuring the Evil Queen.)

The book may offer clues to some of the stories that will be woven into the plot of 'Once Upon a Time'. Some important stories we've not yet seen are Rapunzel, The Sleeping Beauty (aside from a brief scene with Maleficent), Hansel and Gretel and The Golden Goose, all stories included in the new book. The contents of the book suggest that the producers and writers are sticking to the Grimm stories rather than branching out into tales from other cultures (this writer had been hoping for the French "Blue Beard" and the Middle Eastern "101 Arabian Nights," but it doesn't seem likely).

The book also includes fantastic illustrations by Kevin Tong, some of which will be made available as limited-edition posters through online art boutique Mondo. Offerings include Little Red Cap, Sleeping Beauty, Rumpelstiltskin and Cinderella. E-book purchasers will get a special bonus: the entire script for the 'Once Upon a Time' pilot.

It's easy to be lead astray from the original Grimm Brothers' versions of these tales, what with Disney animated adaptations and musicals such as 'Into the Woods'. 'Once Upon a Time' itself adds yet another layer of embellishment over a legacy of adaptation. This book is a great refresher for those of us who may not remember the exact details of how Rumpelstiltskin wields his power, or truly how Rapunzel's betrayal was found out by the evil witch.

This writer thinks the book is a pretty fair offering to keep fans occupied during the show's hiatus (new episodes resume January 8), when perhaps some more of the secrets surrounding Henry's mysterious fairy tale book will be revealed.