New On Blu-ray: 'The Joy Luck Club' & 'Babes In Toyland'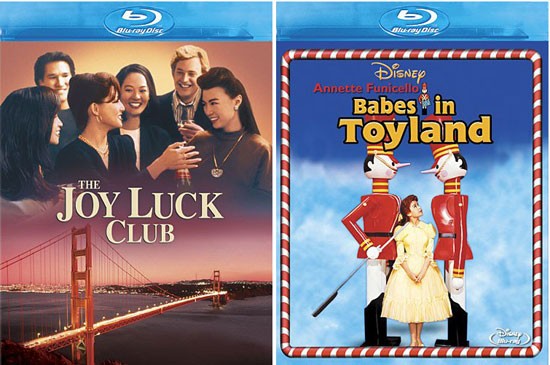 "The Joy Luck Club" effectively interweave 16 mother-daughter tales in an adaptation of Amy Tan's best-selling novel about the clash between generations.

The film takes place in present-day San Francisco, concentrating on a group of late-middle-aged Chinese women. Ever since arriving in the United States after World War II, the women have gathered weekly to play mah-jongg and to tell stories, regaling each other with tales of their children and grandchildren, giving each other a sense of hope and renewal in the midst of poverty and hardship.

The Joy Luck Club is made up of four women - Suyuan (Kieu Chinh), Lindo (Tsai Chin), Ying Ying (France Nuyen), and An Mei (Lisa Lu). But when Suyuan dies, the three surviving members invite Suyuan's daughter June (Ming-Na Wen) to take her place.
Along with the daughters of the other members - Waverly (Tamlyn Tomita), Lena (Lauren Tom), and Rose (Rosalind Chao) - June is a Chinese-American with only a passing interest in her rich cultural heritage. But through vignettes that switch back and forth in time, the daughters begin to appreciate the struggles of their mothers to start their families in the optimistic promise of the United States.
In 1961's "Babes In Toyland," Annette Funicello plays Mary Contrary, about to wed Tom Piper (Tommy Sands) in the heart of Mother Goose Village. The villainous Barnaby (Ray Bolger), who covets Mary for himself, orders his bumbling henchmen Gonzorgo (Henry Calvin) and Roderigo (Gene Sheldon) to do away with Tom. Hoping to turn a profit, Gonzorgo and Roderigo sell Tom to a band of gypsies, enabling Tom to make a surprise return-in old-lady drag to rescue Mary from Barnaby's clutches.
Later, Mary's younger siblings (including Disney regular Moochie Corcoran) wander into the Forest of No Return, compelling Tom and Mary to go after them. Everyone winds up in Toyland, where they try to help the Toymaker (Ed Wynn) and his invention-happy assistant Grumio (Tommy Kirk) meet their quota for Santa Claus despite the continued meddlings of Barnaby. Keep an eye peeled for 11-year-old Ann Jillian, making her screen debut as Bo Peep.