New Nurse On The Block: Taylor Schilling In 'Mercy'

On September 23, NBC will premiere
Mercy
, a hospital drama centering around the ones who pick up the pieces after the diagnosis is made - the nurses. At the core of this ensemble is Veronica Callahan (Taylor Schilling), a nurse who's seen the casualties and fatalities of the Iraq war. Now she must readjust to the civilian world.
Veronica is tough, but at the same time she gets flustered while navigating through her life. There is also a very interesting love triangle going on involving Veronica's wartime lover and her husband, who both work at the hospital. Those relationships are very integral to "Mercy."
"What I was so struck by was this sort of triangle that Veronica is involved in is she was at war; she was in extreme situation where I think anybody is going to be kind of grasping at straws to find comfort and support and a way to get through the day and deal with these [combat] issues that are unbelievable," Schilling told Starpulse.
Schilling, who was a nanny before landing this role, relishes the opportunity to play the multi-faceted Veronica. She explained, "I think it's always fun to explore different parts of yourself and explore different parts of Veronica. And I would imagine if I as a viewer it would be really exciting for me...to see someone who is strong and honestly trying to do the right thing, but not a hero."
That all sounds great, but do we really need another hospital ensemble show? What does "Mercy," a show about a nurse, have to offer us that
HawthoRNe
and
Nurse Jackie
don't? Producer Liz Heldens says "Mercy" has its own point of view and unique voice, and hopefully people will hook into the characters.
When asked if NBC (notorious for quickly canceling promising shows) will allow the show to find its audience, Heldens responded, "...They have been incredibly supportive. And from the top down they seem to really understand what this show is and they support us creatively, you know."
"I feel very creatively supported by the network...I think they understand the characters. They understand what it is. And that's all you can ask for."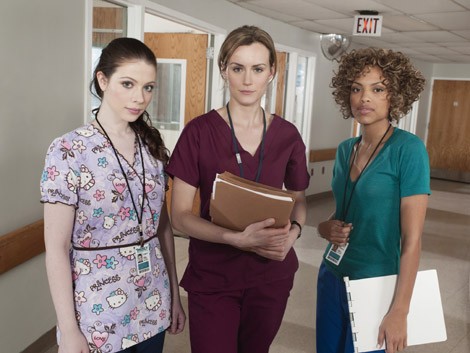 Image © NBC Universal, Inc.
Story by
Donna Terrell
Starpulse contributing writer