New Music Monday: Q&A With Graffiti6's Jamie Scott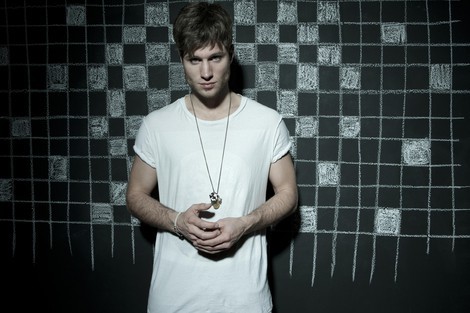 Singer/songwriter Jamie Scott has joined forces with producer Tommy D to develop an entirely different collaborated-eargasm for your ears titled Graffiti6 and we here at Starpulse think they're definitely worth a listen! We caught up with front-man Jamie Scott before the early 2012 release of their debut album Colours to see what fans can expect, how the two mesh as a group and more! Did we mention Jamie is a total hunk? Added bonus!
Starpulse: You just released your new single Free, how have the fans been receptive?
Jamie Scott: Amazing! As I've been playing the song everyone really seems to be enjoying it.
SP: How is your music developing now that you've collaborated with Tommy D? I know you have a new album coming out early 2012 so how is that going to differ from your solo sounds?
JS: When I was solo I focused on a more acoustic sound. And now on the Graffiti 6 album I think we focused on making a cross between what I did to what he (Tommy D) did. It's definitely different from what I've done in the past but there are elements that are similar with the collaboration.
SP: Who are some of your biggest influences right now in music?
JS: I don't know if influence is the right word but the people who inspire me more right now are a British act called Danger Mouse. People like Mumford and Sons; I'm a real big fan of Mumford and Sons. Foster the People, they're great. Another one who is my influence and almost, sort of like my hero is Ryan Adams—I've actually been playing a few gigs with him.
SP: What! That's exciting! That's kind of like a dream come true, right?
JS: Yeah! It's been pretty cool!
SP: Who are some future collaborators you want to work with?
JS: Um, that one is kind of a hard one! You know, Graffiti 6 is already a collaboration between two people. Its not two people setting up something from the start; we both had our own music going on before we got together. If we were to put someone else into the mix you just don't know what effect it could have. It could be a cool thing but it could also take away from what were doing. So for the moment, we don't have anything on the horizon but we never know what the future can hold, ya know?
Watch Graffiti6's official music video for 'Free'!
SP: Yeah for sure—like you said, you're both already a collaborated duo but right now everyone seems to be grasping onto the woman vocals, especially in the Pop world. We see a lot of tracks featuring Skylar Grey, maybe that would be something cool!
JS: Yeah! I'll keep that in mind!
SP: Lets talk more about the album! Give me details; what went into the production and how long did it take to put the whole thing together?
JS: The album didn't take very long at all, I would say 2 months? If you put together all the time we were in the studio, it was a solid amount of time, I would say about 2 months all together. We were lucky that we had that chemistry and knew where we were coming from.
SP: That's pretty impressive! Two months? That's a quick turnaround. Do you guys have any idea what's going to be the next single?
JS: We have no clue, no idea even!
SP: Are we going to see any teasers before the album comes out?
JS: We've released a few things here and there but we just want our fans to get used to the sound we are putting out with our shows and the acoustics. That way everyone will be more surprised once the album comes out.
Graffiti6's debut album Colours drops January 24th 2012