New Music From Kiss, The Fray, Terra Terra Terra; Bikini 'Pulp Fiction' & More (Videos)

Check out the latest music videos from
The Fray
and Terra Terra Terra; and a little teaser ('bout a minute) of
Kiss
' new single (
it sounds great!
) "Modern Day Delilah". There's also a "Lego Rock Band" trailer; hot girls in bikinis reading lines from
Pulp Fiction
(
obviously with strong language
); and if you've ever wanted to beat the 'claw game', here's how. And last, but not least, we need more convenience store clerks like the one in the video below. Check 'em all out!
Check out a teaser of
Kiss
' new single, "Modern Day Delilah" off their upcoming new album "Sonic Boom".
Paul Stanley
says it just may be their best album ever...
"Modern Day Delilah":


Terra Terra Terra
have now released their debut album "Mind Like A Man, Soul Like A Child" via Round Kid/Bonded Records. Hailing from Orlando, FL, Terra Terra Terra consists of Loren Taylor (vocals/guitar), Matthew Hagelberger (guitar), John Dye (synth) and Isaac Eisenhauer (drums). Influenced by bands like
Lovedrug
,
Incubus
, and
Pink Floyd
, Terra Terra Terra have an electric and passionate feel with tracks that range from solid rock to powerful ballads. With their recent release, Terra Terra Terra look to continue their extensive touring and rapidly expanding fan base.
Check out their latest video, "Transmission Lost":


"Lego Rock Band" is on the way, and it looks great. It'll have more family-friendly pop-based songs and the notes you play even look like little Lego bricks. The trailer's pretty clever too. We're looking forward to this one...
Lego Rock Band Trailer:


Here's
The Fray
's new single, a cover of
Kanye West
's "Heartless":
"Heartless"


Pulp Fiction
was a fantastic film. Now you can re-visit some of the classic, memorable lines from the film as read by hot bikini-clad models. It's better than a Royale with cheese...
Bikini Cinema: Pulp Fiction (strong language)


If you've ever gotten frustrated by that stupid claw game found in arcades or the entrance to Walmart, etc. - you know, where you try to pick up tightly packed in stuffed animals with a claw that's pretty much made of wet noodles - here's a video on how to beat that game...
How To Beat The Claw Game:
you're thinking of knocking off your local convenience store (because we're always thinking about that kind of stuff), remember that he may just be into self-defense...
Store Clerk: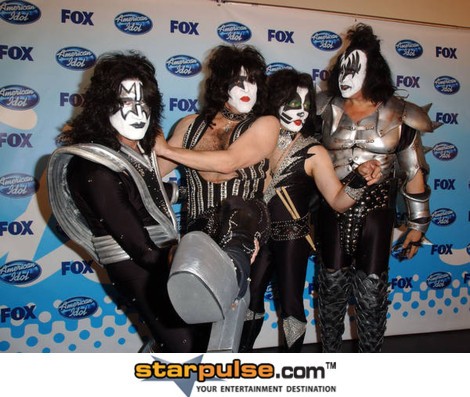 Image © Albert L. Ortega / PR Photos