New Movies On DVD, Oct. 25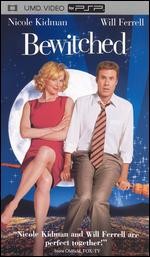 In the film adaptation of
Bewitched
,
Nicole Kidman
and
Will Ferrell
star as Darrin and Samantha in a remake of the classic
TV series
. Ferrell plays Jack Wyatt, an egomaniacal actor who casts Isabel (Kidman) to co-star in his film, thinking the move will help him regain his spot on the Hollywood "A" list. But Isabel, who happens to be a real witch, discovers Jack's scheme and chaos ensues.
Fun Fact: Broomsticks were sent out to movie theaters as promotional items for the film.
More DVD releases this week ...
Other Movie Releases This Week:
Herbie Fully Loaded
Mysterious Skin
The Wizard of Oz
(Three-Disc Collector's Edition)
Titanic
(Special Collectors Edition)
Click here for more new movies on DVD
Click here for new TV shows on DVD