New Movies on DVD, Nov. 22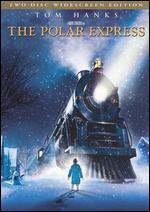 New releases this week are
The Polar Express
and
War of the Worlds
. The Polar Express revolves around Billy, who longs to believe in Santa Claus but finds it quite difficult to do so because his family insists that all of it, from the North Pole, to the elves, to the man himself, is all just a myth. This all changes, however, on Christmas Eve when a mysterious train visits Billy in the middle of the night, promising to take him and a group of other lucky children to the North Pole for a visit with Santa.
In War of the Worlds, Ray Ferrier (
Tom Cruise
) is a dockworker living in New Jersey, divorced from his first wife Mary Ann (
Miranda Otto
) and estranged from his two children Rachel and Robbie (
Dakota Fanning
and
Justin Chatwin
), of whom he has custody on weekends. On one such visitation, looking after the kids becomes a little more difficult when aliens invade Earth. Transporting his children from New York to Boston in an attempt to find safety at Mary Ann's parents' house, Ray must learn to become the protector and provider he never was in marriage.
Click here for more new movies on DVD
Click here for new TV shows on DVD