New Movies On DVD, Nov. 1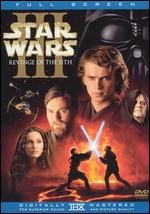 The sixth and final installment in the
Star Wars
saga,
Star Wars Episode III: Revenge of the Sith
, makes its way to DVD on November 1. The film's DVD release will include a second disc chock full of extra features including deleted scenes, audio commentaries and an all-new documentary called "
Within A Minute
," which chronicles the entire process of creating a single 49-second sequence from the film. Also included on the disc is a playable two-level demo of
Star Wars Battlefront II
, which will also be released Nov. 1 for PlayStation 2, Xbox, Sony PSP, and PC. Not just for your DVD player, the disc is key to a trove of online excusives with a compatible web browser and computer system.
Episode III is the third chapter in writer/director
George Lucas
' trilogy of prequel films that tells the story of Jedi Knight Anakin Skywalker's fall to the dark side of the force and ultimately becoming the evil Sith Lord Darth Vader. The film stars
Hayden Christensen
,
Ewan McGregor
,
Natalie Portman
and
Ian McDiarmid
.
Fun Fact: The 78-minute documentary "Within A Minute" was culled from over
600 hours
of video footage.
More DVD releases this week ...
The Perfect Man
(
Hilary Duff
,
Heather Locklear
)
The War of the Worlds (1953)
(
Gene Barry
,
Ann Robinson
)
Millions
(
James Nesbitt
)
Office Space - Special Edition with Flair
(
Ron Livingtson
,
Jennifer Aniston
)
Click here for more new movies on DVD
Click here for new TV shows on DVD