New Movies on DVD, Dec. 6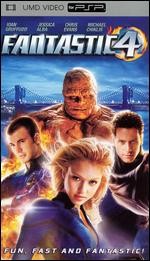 New releases this week are
Fantastic Four
,
The Dukes of Hazzard
, and
Cinderella Man
. Fantastic Four is adapted from the long-running Marvel comic book series and follows four astronauts on an experimental spacecraft who are exposed to a massive dose of gamma rays, which transforms them into strange versions of themselves. Together the group is called the Fantastic Four, and they set out to use their skills to fight crime as well as another altered hero who uses his talents for evil.
Jessica Alba
,
Ioan Gruffudd
,
Michael Chiklis
,
Chris Evans
, and
Julian McMahon
star.
In the big-screen adaptation of the hit
TV series
The Dukes of Hazzard, Bo (
Seann William Scott
) and Luke (
Johnny Knoxville
) wreck havoc in their classic 1969 Dodge Charger. Together with their cousin Daisy (
Jessica Simpson
) and moonshining Uncle Jesse (
Willie Nelson
), the two good old boys must deal with corrupt county commissioner Boss Hog (
Burt Reynolds
) when he threatens to confiscate the family farm.
Based on a true story, Cinderella Man follows Depression-era fighter Jim Braddock (
Russell Crowe
), who in 1935 defeated heavyweight champ
Max Baer
in a 15-round fight. Prior to his comeback, Braddock was poor, he couldn't pay the bills, and like so many others during that time had hit rock bottom. But deep inside he never gave up his will to fight. In a last-chance effort to support his family, Braddock returned to the boxing ring. Although people claimed he was out-matched and over his head, he defied the odds and kept winning.
Click here for more new movies on DVD
Click here for new TV shows on DVD