New Mom Jessica Simpson Shows Off Her Ample Cleavage On Twitter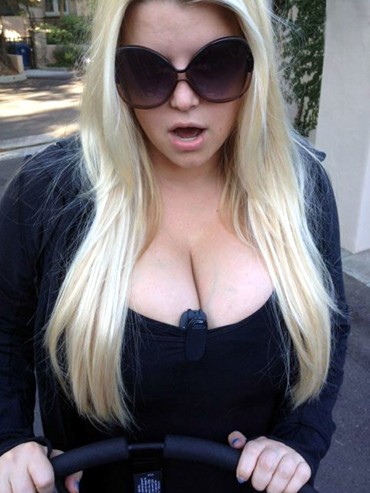 Jessica Simpson is a mom, and she's proud of it. The singer/actress recently posted a photo of herself going for a walk with her daughter, Maxwell Drew, and posted it on Twitter.
"Just taking a walk around the block. Street legal???" she wrote of the image, which features her wearing a cleavage-baring black blouse pushing a stroller.
The 31-year-old star gave birth in May following a C-section. Following doctor's orders, she put off exercising until she fully recovered from the procedure. But she's going to have to shape up soon. She reportedly signed a $4 million deal with Weight Watchers to lose 50 pounds.
Earlier this month she showed off pictures of her little one in People magazine.  She said, "She's my career at the moment. I know I was always meant to be a mom, and I think I'm doing a really good job. I'm the most aware I've ever been."
But she's also concerned about her appearance: "After you have your baby it's like, 'Oh my God, what happened to my body?' This is not me! It would be nice to feel comfortable in a bikini but that's not my goal. I just want to fit into jeans."