New 'Lone Ranger' Trailer Gives Johnny Depp Major Screen-time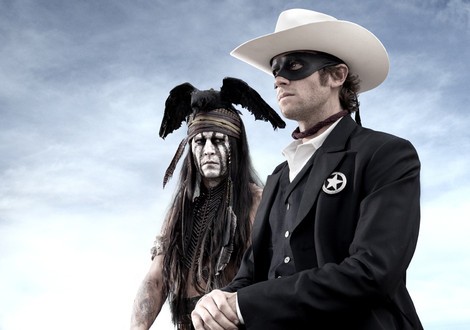 Is this film The Lone Ranger or Tonto: Featuring Lone Ranger? That's what viewers of the new trailer for the Disney film may be asking, after watching an extended look that featured plenty of Johnny Depp.
While issues of Depp's character may be brought up later on, given the fact that he's playing an American Indian stereotype, his character is proving to be a less eloquent Captain Jack Sparrow. When you look at the results in the critical and box office reception of the Pirates of the Caribbean franchise, that's not a bad thing. Plus, The Lone Ranger has the same production team behind it. Lone Ranger 2 and 3, here we come?
Anyway, the trailer fleshes out Lone Ranger's story: Tonto tells him he is a "Spirit Walker," thanks to info he gleaned from his horse. That means while he can be killed, he rises the next day alive (maybe "there can be only one"). 
We also get a bit Batman-esque when Tonto encourages the Lone Ranger to wear his signature mask: "There come a time when good man must wear mask."
It hasn't been explained who will be the Lone Ranger's nemesis, but we can safely say Tonto will be the character most people will be talking about until the release of the film July 3, 2013.