New Hotties Found for 'Step Up 3D'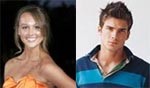 Step Up
introduced the world to
Channing Tatum
and the art of swooning has never been the same.
Step Up 2 the Streets
gave the boys
Briana Evigan
, and now the third Step Up film will introduce the world to
Rick Malambri
and
Sharni Vinson
. Producer Adam Shankman bragged about his latest discoveries.
"We're discovering more people but believe me, if you'd like to get on that computer and look up Rick Malambri, your head will fall off," Shankman said. "We're into like a Channing Tatum, another Channing kind of thing."
That's not all. These hotties will be in your face, because it's
Step Up 3-D
! "We are six weeks away from starting shooting in New York in 3-D. Step Up 3-D [like] Step Up 2 the Streets. Step Up 4 Justice. I don't know what to do with five. Yeah, we start shooting and we just got two of the hottest young actors to play the leads in that movie. We're very excited.
Step Up fans can expect to see some familiar faces too, just like Tatum did a cameo dance off in the sequel. "The story starts on Moose (
Adam G. Sevani
) [from Step Up 2] and Camille (
Alyson Stoner
) from the first one, Channing's little sister, Alison Stoner. It's their first year at NYU and they step up there."
Story/Interview by
Fred Topel
Starpulse contributing writer