New "Handy Manny" And "Little Einsteins" DVDs Coming Feb. 19

Handy Manny
: Fixing it Right and
Little Einsteins
: Race for Space are both being released (as separate DVDS) on February 19, 2008.
Handy Manny: Fixing It Right
Hop up and jump into fun with Handy Manny and his loyal, lovable talking tools. Working together, they'll get the job done before you can say, "Gracias, mi amigo!" Cheer on Manny and his tools as Rusty heroically overcomes his fear of heights to lead the team, repair a jungle gym, and make a grateful new friend. Pat surprises everyone, including himself, when he's the one who finds a clever solution to a really big problem. And Dusty solves the oh-too familiar mystery -- "Where do socks go?" -- when a clothes dryer seems to be "eating" them. Join Manny and his gregarious gang of can-do helpers and you'll discover how cooperation and creative thinking make Fixing It Right fantastic fun for everyone!
Bonus Features:
1. "Fix It With Handy Manny" Set-Top Game
Rated G; Running time 58 minutes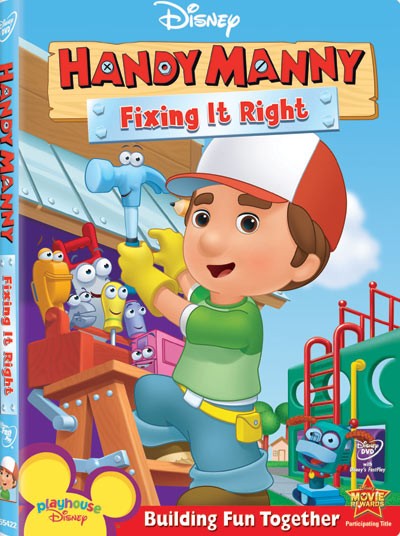 Little Einsteins
: Race For Space: Rev up Rocket and soar full speed ahead into action-packed, music-powered adventures! Join Leo, June, Quincy, Annie and Rocket on a mission to rescue the Three Little Piggies when their airplanes spin out of control. Can Rocket fly fast enough and far enough to bring the Piggies all the way home? Only with your help! Journey with the Little Einsteins™ as they zoom to outer space on their most thrilling voyage ever! Then, get ready to race around the globe against the world's greatest flying machines. But look out! Big Jet is up to his old tricks. And he'll do anything to win the trophy. Whether your preschooler is exploring the ancient city of Machu Picchu, whooshing past stars or planets, or searching for hidden treasure in Hawaii,
Race For Space
is a first-class ticket to nonstop entertainment you can enjoy together!
Rated TV-G; Running time 72 minutes
Bonus Features:
1. Rocket Around-The-World Activity -- Learn How Different Tempos "Drive" The Music, And Help Guide Rocket Through The Sahara Desert, Hawaii And The Swiss Alps
2. Bonus Shorts -- Lou And Lou: Safety Patrol -- "Race For Safety"; "Buckle Down For Safety"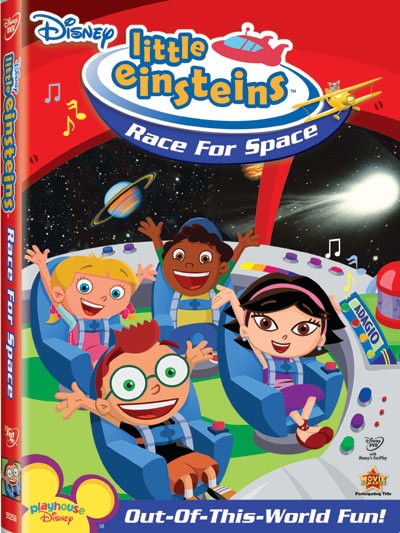 Watch Clips From Each:
Handy Manny: Fixing It Right
Little Einsteins: Race For Space
(Streaming audio and/or video links may expire without notice)