'New Girl' Star Zooey Deschanel Brings Her Quirky Style To The February Glamour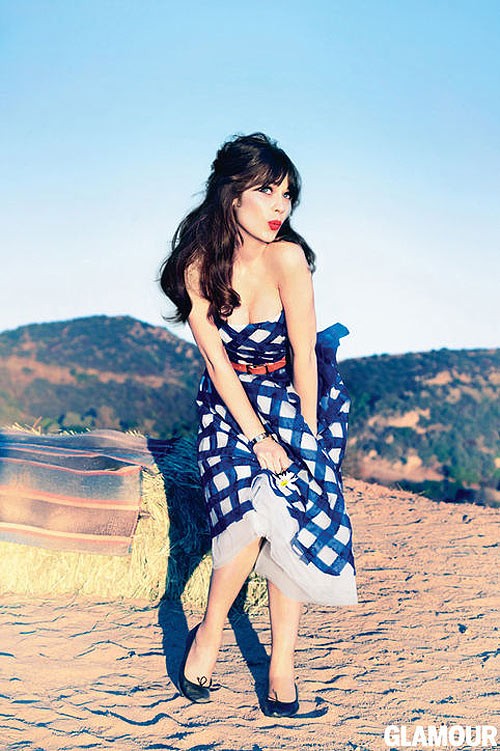 Zooey Deschanel's hit sitcom New Girl is set to return to TV tonight after the holiday hiatus; and to go along with it the adorkable star is on the cover of the February issue of Glamour magazine, on newsstands today.

Zooey sat down and humbly discussed her successful career, her image, and how she got started in comedy in the first place.

"I'm just going where the material is," she says of the comparisons between her film and TV career choices. "People sometimes say, 'Oh, you were a movie star,' and I'm like, 'No, I was a supporting actress.' I wasn't an A-list actress, and I'm fine with that. I'm proud of what I did in film. But getting to do the stuff that I was passionate about was such an uphill battle.

"If New Girl had been a movie, I don't know whether I would have been given the opportunity to do it," says Zooey; who posed with Miley Cyrus' ex-boyfriend Justin Gaston in her photo shoot.

As far as her image goes, Zooey says that she just does what she likes instead of trying to maintain any type of image for herself.

"This business is all about branding! But I've never been like, 'Let's calculate an image.' I'm just, 'I like that. Let's do that.' I grew up loving French New Wave movies, and so a lot of what I like is that style," she says. "It's just about doing what you like so that when you look at yourself, you're not disgusted. And I'm all about unintentional. I'm not a calculated person…."

Zooey also says that she got into comedy by not trying to get into comedy.

"Somebody asked me," she says, "'How did you start doing comedy?' and I was like, 'By being unintentionally funny.'

"I think making a movie or a record, the best things happen by accident — and those end up being the magic. Every time I've followed my gut it's been better than when I've tried to do what I was supposed to do."

Read Zooey's full interview in the February issue of Glamour, on newsstands today and see more at Glamour.com.