'New Girl' Season 3 Premiere Review: Episode 'All In'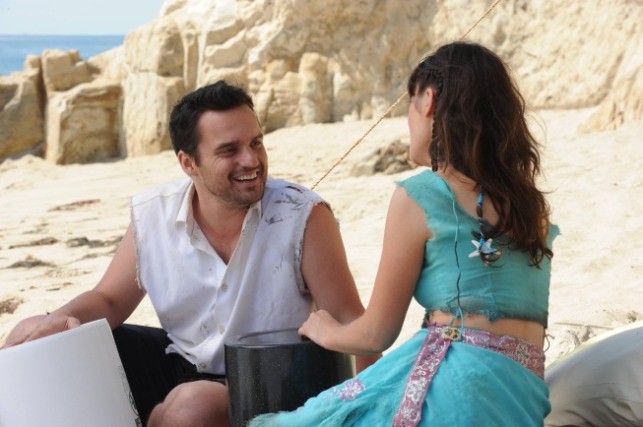 When we last saw our favorite group of thirty-something loft losers, Nick and Jess were running off together to God-knows-where, Schmitt was busy running away from a decision on who to date, and Winston…loved pranks? Now we're back moments later, with Jess and Nick proclaiming how much they like each other over and over. It's basically every twelve year old fanfiction writer's dream.
With the demands of needy-Schmitt and the looming question of what life as roommates will be like now, Jess and Nick decide to run off. Winston has decided to do a puzzle, while Schmitt wants a friend to complain about his love triangle. The puzzle storyline must be commentary on Winston's constant stream of terrible storylines, right? RIGHT?
Schmitt continues his quest to lose every ounce of likeability. Due to a severe lack of balls, he doesn't break up with CeCe or Elizabeth. He even goes as far as telling CeCe that Winston wanted her underwear to cover the lie. Not only is he a bad boyfriend, he's also the worst friend. Ten thousand dollars in the douchebag jar.
Nothing is resolved really. Winston is terrible at puzzles because he's colorblind. Schmitt is terrible at live because he's an awful person.
Meanwhile, Nick and Jess are all-inning in Mexico, basically wearing the rags of their wedding clothes. They enjoy their time on the beach, putting off the issue of whether living together will ruin everything.
It's the same worries many of the show's fans have. If they get together, will the dynamic of the show be worse or just different? If this episode is any indication, it's heading in a good direction. They aren't completely ignoring the issues, but just finding ways to address them. Hopefully they'll do the same for Winston soon.
Other Musings:
Winston's requirement for friendship: "Don't talk to me too much, don't lie to me, and never EVER touch my puzzle." Wise man.
"Oh my God. Pull over. That piñata's shaped like a monkey." Sharp cut to black. Amazing cut to commercial.
"What do you call it when puzzle pieces are broken?" Heartbreak. That's what you call it.
"I needed you underwear to… sew into my underwear." I love how weird Winston is under pressure or in basically any other type of situation.
Nick to a child: "If you don't give me that bracelet I'm gonna strangle you to death." The kid later claps in the background while Nick is tazed.
"What are you blind? Sorry. Actually a blind man could feel the smooth edges of a corner piece."
Winston: "Nick went to jail before me? Hehehe."
The conversation about whether Nick could be a bitch in prison was so funny.
Schmitt continues to be racist.
"He's colorblind which basically makes him crippled."