'New Girl' Recap: Romance Blooms On 'Winston's Birthday'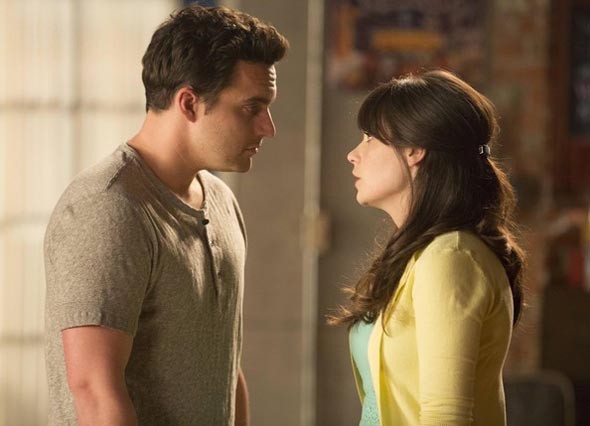 Despite being titled "Winston's Birthday," the penultimate episode of the season had very little to do with the birthday boy. Instead the story focused on the romantic progress of three "New Girl" couples as the gang prepared to send CeCe down the aisle.
Jess and Nick
The morning after Jess and Nick's special night started out very sweetly. Nick prepared an interesting yet slightly disgusting tray of breakfast goodies to serve to Jess in bed. It didn't look edible, but it's the thought that counts, right? Unfortunately the considerate gesture went unnoticed by Jess as the morning after turned into a hectic day of unexpected tasks: Jess had to deal with an unexpected visit from her father (guest star Rob Reiner), stop by an elementary school for a job interview, and exercise her maid of honor duties by attempting to keep CeCe calm and collected before her big day. The zaniness of her personal schedule prevented Jess from discussing the previous night with Nick, who took it upon himself to keep her dad, Bob, occupied.
Nick and Bob's bonding day went rather smoothly, with Bob providing Nick with essential advice regarding the opposite sex. But that smooth talking came to an immediate halt when Bob realized Jess was the object of Nick's affections. Bob scolded the two for fooling around behind closed doors and admitted his fear of Jess ending up with a guy like Nick--lazy, apathetic and just no good. When Jess came to Nick's defense, her father retaliated by saying he understood Nick's psyche because he is Nick, and he feared Jess and Nick would end up like him and his ex-wife--divorced, angry and all alone.
Schmidt and Elizabeth
Schmidt and his college sweetheart Elizabeth recently reconnected on both a physical and emotional level. But that emotional level took a beating this week when Schmidt reverted to his newer, conceited self. The Schmidt Elizabeth knew in college was fat and unafraid of the words people threw his way, but this new, fit Schmidt took everything to heart and inadvertently exposed his shame of being seen with a chubby girl. After making it clear that she had no interest in this Schmidt of a stranger, Elizabeth decided to take her confidence elsewhere. The two eventually made amends when Schmidt, dressed in the oversized sweater Elizabeth had given him back in college, crashed Elizabeth's date with another man. Their playful dance off indicates a renewed friendship and a step in the right direction.  
CeCe and Shivrang
CeCe spent most of the episode freaking out about her impending nuptials. After having to deal with crazy Indian relatives and final wedding preparations, CeCe was finally able to take a breather—at least until she realized she had fallen asleep on her arm, which was heavily decorated with un-dried henna tattoos. Naturally, the tattoos stuck to her face in a Mike Tyson-like manner. Maid of honor Jess, along with a wet towel, oil and vinegar, came to CeCe's rescue, only to make things worse, resulting in a horrific five o'clock shadow
The real hero turned out to be Shivrang, CeCe's husband-to-be. The two may have been a part of an arranged marriage that came together far too quickly, but Shivrang has continually proven himself to be a man worthy of CeCe's affections. With some sweet words and a quick call to a tattoo specialist, Shivrang became a real knight in shining armor.
The episode came to an end with Jess and Nick coming to a basic understanding of one another's feelings. Though the two exchanged very few words regarding their night together, Jess assured Nick that he is unlike Bob in every way.
Birthday boy Winston, whose special day was overshadowed by the romance blooming around him, received his comeuppance in the show's final 30 seconds, when a late night date between Jess and Nick, and also Schmidt and Elizabeth, turned into an impromptu birthday gathering. Happy birthday, Winston!
Next week's season finale marks CeCe and Shivrang's big day! Will the two walk down the aisle, or will CeCe's never-ending wedding nerves get the best of her? What does the wedding mean for Schmidt and CeCe? Will Nick and Jess finally get together? Will Winston finally get his cake and eat it, too?