New Fall TV: Keep It Or Kill It

It's that time of year. You've checked out the new shows and by now you know if you love them or hate them. Networks are either ordering additional episodes of their fledgling series or quietly letting them burn off until nobody notices they are gone. And some networks stayed cautiously conservative by looking back to previous television icons and failing miserably (we are talking to you, NBC).
Check out the crop of new series and whether we think they should stay on the air or be put out of their misery. Let us know if you agree!
ABC
FlashForward
-
Keep it
ABC took a gamble on this show, and we are hoping it pays off. It definitely caters to a cult following by its use of
Lost
-related references. We hope it is a closet 'Lost' sequel or spin-off.
Modern Family
-
Kill it
Apparently, due to the success of
The Office
, comedies that are not the standard three-camera format think that they have to be pseudo-documentaries to be successful. Between poor writing and its decision to construct humor via vomiting over used stereotypes, this show needs a replacement.
The Forgotten
-
Kill it
Christian Slater
has become a grim reaper of television. The premise is also weak. Stop trying to spin the crime drama - that is poor imagination, not "original programming."
Hank
-
Kill it
We love
Kelsey Grammer
, but even the great Crane cannot work his magic on this failure. The only thing it manages to do is highlight a narrative recession in the comedy genre.
The Middle
-
Kill it
We want to know why, after
Back to You
epically flopped, ABC decided to give
Patricia Heaton
and
Kelsey Grammer
their own shows. Sure, they are good (him more than her), but all ABC did was manage to put them in the loser category again.
Cougar Town
-
Keep it
We hate it, but the audiences seem to love it. Well, at least, comparatively, it is far better than
Courteney Cox
's
Dirt
.
Eastwick
-
Keep it
This show is not nearly as good as either the original book by John Updike or the film version, but we understand that the shoes of
Michelle Pfeiffer
,
Cher
,
Susan Sarandon
, and
Jack Nicholson
are hard to fill.
CBS
The Good Wife
-
Keep it
This could not come at a more relevant time and it is well cast.
NCIS: Los Angeles
-
Keep it
Not nearly as good as its older brother; but it seems to pull ratings.
Three Rivers
-
Kill it
Enough with the sub-par medical dramas! Pretty soon we are going to see a medical show that centers around medical waste custodians.
Accidentally on Purpose
-
Kill it
The show was accidentally greenlit - or at least that what we believe.
CW
Melrose Place
-
Kill it
We cannot say enough negative things about this show. In fact, we despise it so much that we would rather sit and watch a marathon of
Two And A Half Men
(ick, ick, ick).
The Beautiful Life
-
Dead on Arrival
Well, the network did it for us…
Vampire Diaries
-
Keep it
Cheesy and stereotypical, but a much better based-on-a-book-series attempt than
Twilight
. Oh, and there is the fact that the book series was written a decade before "Twilight," so those of you who think it is a rip-off-think again.
FOX
Glee
-
Keep it
No, "keep it" is not nearly as strong of a reaction. Please feel free to go forth and do whatever you wish, Fox. As long as Kurt and Sue keep us laughing so hard we spittake and the dialogue remains deliciously dark for a Fox network show, we will just keep begging for more. Oh, and thanks ahead of time for the upcoming
Joss Whedon
guest-direct episode.
Brothers
-
Kill it
We would like to bet on this show not making it past a full first season.
NBC
Community
-
Keep it
Like
Parks and Recreation
, no one seems to be watching this gem. Seriously. WATCH IT!
The Jay Leno Show
-
Kill it
Aside from wrecking television as we know it,
Jay Leno
is destroying his reputation. Soon people will realize that he is grasping for guests since smart rival networks are avoiding having their stars appear on the show due to conflict of interest.
Trauma
and
Mercy
-
Kill them both!
NBC is clearly pining for the golden days of 'ER'. Sorry, NBC, but separate shows focused on paramedics and nurses respectively are falling down the same waterfall as "Three Rivers."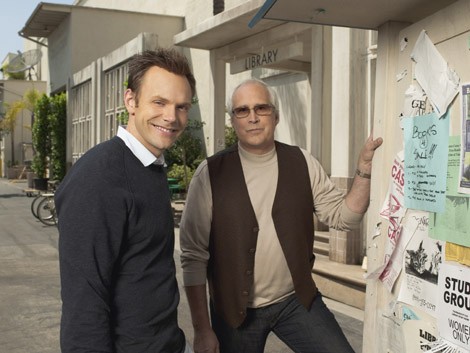 Image © NBC Universal, Inc.
Story by
Sarah Lafferty
Starpulse contributing writer
Follow Sarah on twitter at
starbuckscout
.