New Couple Ryan Gosling & Eva Mendes Get Close In Paris' Pere Lachaise Cemetery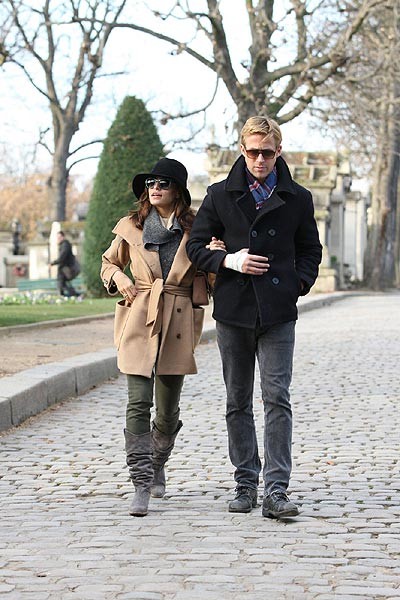 Ryan Gosling and Eva Mendes were spotted getting cozy over the weekend in Paris.

The new couple, who have only been dating since September, were in the City of Light while Eva filmed her new movie, Holly Motors.

The long-time friends took things to the next level while shooting The Place Beyond the Pines and are now steady boyfriend and girlfriend.

Ryan was recently snubbed by People magazine - he lost out to Bradley Cooper in the magazine's annual 'Sexiest Man Alive issue.

Back in September, when the couple was spotted getting close at Disneyland over Labor Day weekend, a source told Us Weekly magazine, "It hasn't been a secret how excited Eva's been to film with him, and she's always joked with us about how gorgeous he is. She's never been shy about having the hots for him!"

Ryan and Eve were spotted Saturday at the Pere Lachaise Cemetery, where Doors frontman Jim Morrison is buried.

People magazine reports that after seeing the cemetery, the affectionate couple toured the Catacombs of Paris, where ancient stone quarries make up na ossuary where the remains of nearly six million Parisians are kept.
See more pics of Ryan and Eva in touring the beautiful Paris landmark...