New Book About Rock-and-Roll's Legendary Laurel Canyon Hits Bookstores May 25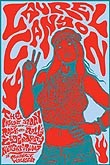 Director
Cameron Crowe
says Michael Walker's "Laurel Canyon: The Inside Story of Rock-And-Roll's Legendary Neighborhood" is "hilarious and true and bittersweet."
In the late sixties, musicians like
Joni Mitchell
,
Jim Morrison
,
Carole King
,
Frank Zappa
, the
Eagles
, and the
Mamas and the Papas
came together for the first time to meld folk, rock, and American pop into something completely new, something that would launch a generation into history. Laurel Canyon is the account of what happened behind the scenes to make that generation of music blow up and out of Laurel Canyon, California. Walker recreates jam sessions at the home of Joni Mitchell and then drives down the streets of Laurel Canyon today, listening as those same songs waft out of bungalow windows.
"[Walker] offers candid, insightful glimpses of Frank Zappa's bizarre, brief tenure in early cowboy movie star
Tom Mix
's old log cabin; the jangly social and musical interaction of
The Byrds
,
Crosby, Stills, Nash, and Young
, and Joni Mitchell; the rise of the singer-songwriter marketing label; and the scourge of casual cocaine abuse that pervaded the era and, soon, much of the rest of Woodstock Nation." -
Booklist
Click any of the links for more on:
Buffalo Springfield
Crosby, Stills, Nash and Young
Frank Zappa
Mamas and the Papas
The Byrds
Neil Young
Eric Clapton
The Doors
The Eagles