New Artist Spotlight On Jillian Valentine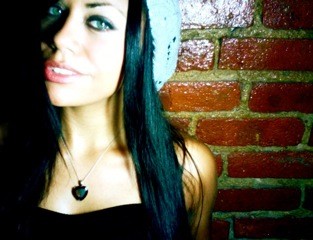 Whether you are pondering what to get your Secret Santa at iwork or are just sick of the same Top 40's songs on the radio, we have the perfect solution for your holiday blues. Her name is Jillian Valentine and her debut album, "Rebelle," is available on iTunes. Not only is she beautiful and has a soulful voice of an angel, but this chick is talented beyond her years. Jillian writes her own music, which is not only ambitious, but it puts her ahead of a lot of young musicians you hear on the radio today. We caught up with recording artist, Jillian Valentine to talk about her album, her musical influences and what's up next for her.
How has your debut album, "Rebelle" been received by your fans?
I finished the album a year ago, but it's only been released for a couple months. It's been getting stellar feedback, as well as references to similarities to some really great musicians I admire. A lot of artists don't embrace comparisons to others, but I'm always grateful for listeners placing my music on a similar rank to well-known artists.
Are you working on any other projects right now?
I'm working on demoing/pitching some songs for other artists at the moment, as well as writing new songs for my next album. There are some really great things in store for 2011 that I can barely wait to share!
Did you work with any big names on your album?
I worked with some really exceptional musicians on this album, some of whom have played with other artists that I grew up listening to.... it was almost unreal to have them playing on my album. It features Shawn Pelton (Sheryl Crow, Michelle Branch), Rob Clores (Jesse Malin, Enrique Iglesias), and even Shannon Curfman (blues/rock singer) singing back-ups on 'Praying for Rain'. I used to cover her songs in college, so it was really awesome having her on my album.
You have been described as "Sassy yet soulful" and "Fresh yet unforgettable," how does that make you feel and do you think they encompass you as an artist?
It's a phrase I really embrace. I think it's important to have an edge and something new to bring to the scene, as well as to present music substantial and meaningful enough to keep listeners hooked beyond the current trend. It's a hard balance to strike, but it's something I strive for.
You write your own material and play the piano for most of your songs, do you think that gives you an edge in the music world, compared to say, Ke$ha, who doesn't seem to have much musical talent in our opinion.
I'd like to hope so. I studied songwriting for three years at Berklee, and have been writing, playing and singing for over a decade. If anything, I hope it shows substance and commitment to something I'm passionate about. Music isn't just a phase for me; it's something I've dedicated my life to.
If you could collaborate with any artist, who would it be?
Maroon 5, the Crash Kings, Ray LaMontagne, James Morrison, Marc Broussard.... Was I supposed to pick just one....?
Who to you look up to as musicians?
Ryan Adams, Sheryl Crow, Grace Potter. I really admire their originality, writing style, and musicality.
Do you ever get writer's block while trying to write songs? If so, how do you get past that?
Far too often. Lyrically, I almost always write about things that I'm going through at any given moment. If whatever I'm writing about takes a turn, it's really difficult to continue writing while trying to remain in a past frame of mind. I end up either placing myself in memories to complete a song, or putting it aside to pick up again when I find myself able to say more. Musically, I write on either piano or guitar, so if I get stuck writing on one instrument, I'll move to the other. Hearing and playing a song in a different sound really opens up the possibilities.
What's on your iPod right now?
The Black Keys, Crash Kings, Band of Skulls, Carney.
Is your last name really Valentine? If not, what's the story behind that?
It's my middle name.... I was a February baby! 'Valentine' literally means "strength" and I thought that was a great name to have and present, especially in this industry.
Besides your album, what are your favorite gifts to give or receive this holiday season?
Concert tickets are always a great gift. If I know the recipient is a new fan of the artist, I like to throw in an album too so that they can learn the songs beforehand!
What is your favorite holiday song or album?
It's between "I'll be Home for Christmas" and "River." I think they capture the melancholy side of the holiday season so beautifully.
Would you ever consider recording a holiday album?
Of course! It's always risky taking traditional holiday songs and making them your own, but I'd love to figure out a way to do so. I'd also love to write some Christmas/winter-themed songs of my own... maybe for next season!