Never Steal Taxis & Be Kind To Animals: 'Amazing Race' Recap

The twelfth season of
Amazing Race
debuted last night with all its usual hoopla. I can't help but love watching people turn into creatures much worse than the regularly crazed tourists who visit countries and can't always abide by the rules and customs. Surely this season will be no exception. Let's look at the new teams:
Kynt and Vixen, from Louisville, Kentucky have been dating for about three years and represent the Goth side of the competition. Back home they host and emcee nightclubs and rock shows when they are not keeping up with their waiters' gigs. They are also into sci-fi and attend conventions and are MySpace addicts.
Straight from the California Valley come Jennifer and Nathan. They met in college and have been dating off and on for about two years. Nathan works as a waiter and volleyball teacher, and Jen is still a student and coaches gymnastics. Both of them admit to being jocks, which should come in handy for those long runs during the race. Of course, anyone who has watched the series also knows what being overly competitive can do to even the best of relationships.
Ronald and Christina make up the token father/daughter team this season. Dad is a VP of sales for a paper company while his daughter works as a political analyst. They are hoping that this trip will bring them closer together, since Ronald traveled extensively during Christina's childhood. She has also gone abroad, so we suspect that this may be an edge for them in the competition.
Shana and Jennifer represent the "Barbie" factor. Both come from LA where Shana is an actor and recent chef school grad, while Jennifer is a legal assistant who also does stock market research. As we all have learned, being beautiful and blonde in foreign countries is a definite plus when it comes to getting the locals to pay attention.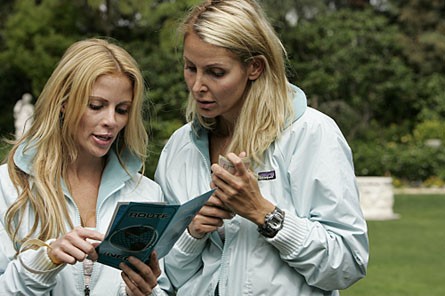 Representing this season's brother/sister pair are Azaria and Hendekea. Azaria lives in New Orleans and Hendekea is from California, and both are engineers. This may prove to their advantage if they can apply some
MacGyver
-like skills to the challenges they will undoubtedly face.
Then there are Lorena and Jason. Another couple that will test their relationship during the race, they live together in Sherman Oaks, Ca., but have opposite work schedules. Jason is a wedding videographer, actor, and martial arts instructor while Lorena also acts and waits on tables. Is it just me, or are we beginning to see a plethora of waiters/aspiring actors here?
The grandfather/grandson team of Donald and Nicolas may be at odds. Nick is a pilot from Chicago and somewhat of a computer geek while the retired Don from Wisconsin is old school. Given the age span, I suspect that it will make a difference in their ideas and strategy and hope that Grandpa can keep up the hectic pace.
Ari and Staella are best friends, and they also reside in California. Having met eight years ago, Ari works as a waiter and lives with Staella, who is a restaurant manager. They claim that they are all about the fun, which is a good thing as most of the pairs sound like they are in it specifically for the money.
Marianna and Julia are sisters and in their own words, "best friends and worst enemies." If that is the case, there may be a touch of antagonism between them. Then again, they have traveled together before, which should be advantageous during the race. Marianna is an art gallery manager while Julia is a production assistant. Both hail from Miami.
Another dating couple is TK and Rachel from Huntington Beach, Ca. Although their moms were friends when they were kids, they did not have much of a relationship until the last couple of years. TK works as a substitute teacher while the entrepreneurial Rachel owns her own flower shop. The combination of her aesthetic ability and his athleticism may help them in the long run.
Finally, there is Kate and Pat who live in Thousand Oaks, Ca. Married for three years, they dated for seven years prior to that. Kate is an Episcopal priest while Pat is an ordained Deacon. One of the oldest couples, they will have prayer to depend on if they find the pace is too rapid for them.
There are 11 "legs" and eight "pit stops" for Philiminations. Off they go to Shannon, Ireland for the first stop. It's always fun to see the glee on the competitors' faces early on. It turns into dastardly deeds and attitudes too soon. Once they become inure to the traveling, it becomes cutthroat.
I am amazed at some of these Californians that don't know the way to the airport. At least three teams are already going the wrong way. Once there, it's first come, first serve, and the race doesn't mention that they must provide tickets for their camera crews. That is why some of the teams wait for a second flight.
Once they arrive in Ireland, Ari shows initiative and steals another couple's taxi to catch a ferry to and from Inissmore Island. Nate screams because Jen cannot run fast enough. I thought she was supposed to be a jock-type. I love Kate and Pat, who stop to smell the roses, but should probably hustle a bit.
The next destination is Cleekan Farm to catch tandem bikes. I am surprised that some of the couples are showing such comraderie. Lorena hits a freak-out point, not good so early in the game. It makes for interesting viewing, however.
When they hit the first "roadblock" to bike in the sky, we are already nauseous. TK is gung ho, while Rachel hangs on for dear life. The other jazzed couples follow, and I suspect that most of the terror at first take-off isn't shown on camera. When they reach the donkeys, most of the couples don't realize that animals prefer kindness to threats. Some bully the poor creatures then wonder why they protest. Jennifer and Nathan and Ari and Staella are surprised at the belligerence. I am not. As Christina puts it, "Donkeys have souls, too."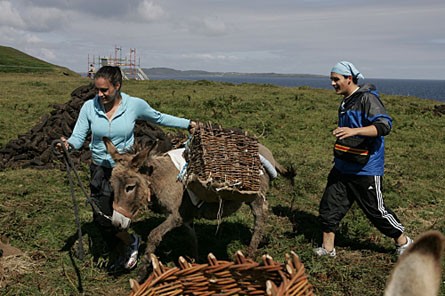 Then it's on to the Connemara Heritage Center. Azaria and Hendekea arrive first, followed by Kynt and Vixen, TK and Rachel, Lorena and Jason, Nicolas and Donald, Shana and Jennifer, Ronald and Christina, Kate and Pat, Marianna and Julia, and Nathan and Jennifer. Ari and Staella bring up the rear and get Philiminated.
TK and Rachel are already referred to as "The Hippies" and Kynt and Vixen are "The Freaks." Nicknames like that tend to stick for the entire race. Ronald is already showing a touch of humor, and he and Christina will probably win the sappy couple award, although next week's promo shows the couple in conflict. What has this premiere taught us? Never steal taxis, and be kind to all living creatures. Karma can be hell, or in this case, no million dollar prize.
Episode recap by
Sheila Franklin
Starpulse.com contributing writer