Never Say Never: Justin Bieber's 3D Concert Movie in a Tight Race for This Weekend's Box Office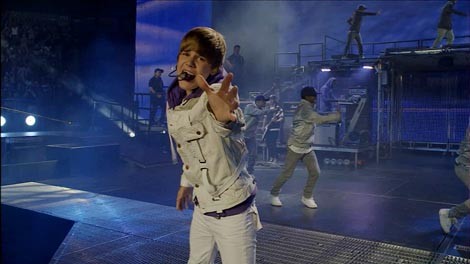 "Let's pull off a miracle. Who is coming? Bring all your friends!" was the message posted on Justin Bieber's Facebook page earlier today when box office numbers showed his concert film, Justin Bieber: Never Say Never, trailing the top spot in this weekend's box office race by a slim margin.

The must-see movie of the week sits just behind Jennifer Aniston & Adam Sandler's new film Just Go With It, despite the romantic comedy's lukewarm reviews.

Box Office Mojo reports that Just Go With It rang in an estimated $31 million in box office receipts this weekend, while Bieber's Never Say Never trails at a close second with 30.2 million. Gnomeo and Juliet followed in third place with $25.5 million and in fourth place was The Eagle, with a mere $8.6 million. The Roommate, starring Minka Kelly and Leighton Meester, rounds out the top five with $8.4 million.

Bieber spent the day rehearsing for tonight's Grammy Awards and posting a few Tweets to thank fans for their support of his new film.

"[F]or everyone seeing #NSN3D (Never Say Never 3D) today thank u...we are in a race no one thought we would be in. u guys are amazing," he posted; followed by "regardless of what happens today is a GREAT DAY...so blessed and grateful. This is just the beginning. Dream BIG and #NEVERSAYNEVER."

Now go see it!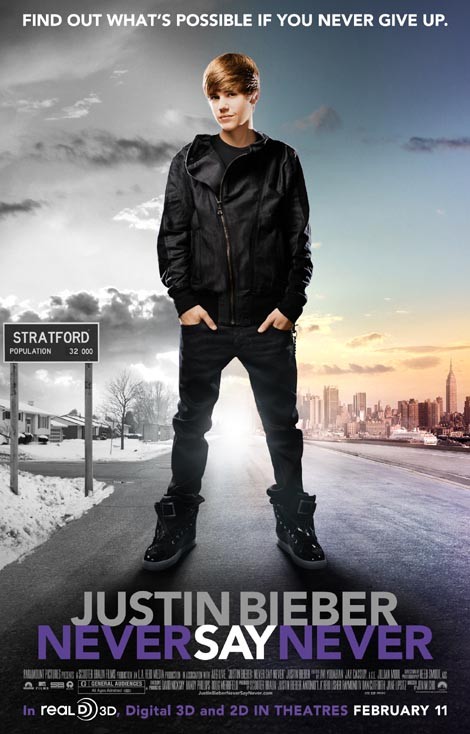 Click for more great Justin Bieber pictures: