Netgear Launches Three New Streaming Players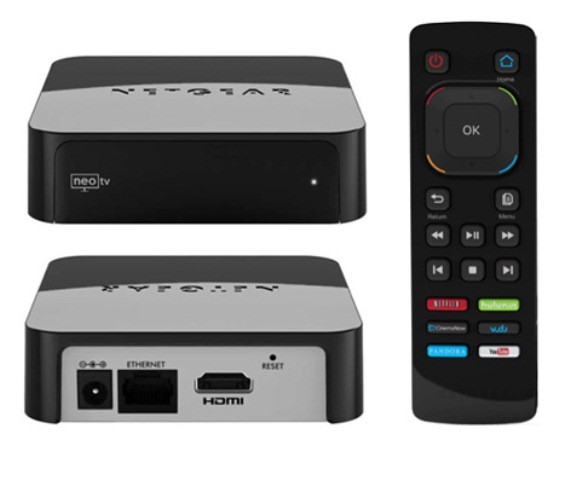 Netgear unveiled a suite of streaming players this week looking to take on the Apple TVs and Rokus of the world. The three players are the NeoTV, the NeoTV PRO and the NeoTV MAX.
All three allow users to access and stream "thousands of movies, TV shows or songs from Netflix, Vudu, Hulu Plus, YouTube, Best Buy CinemaNow, Pandora, Rhapsody and many other channels." They all have built-in WiFi and a wired Ethernet connection and come with a remote control featuring one-touch Quick Start buttons to typical channels like Netflix and YouTube. Or, you can download a free app and use your Android or iOS device as a remote.
There's a few key differences between the models. For instance, the NeoTV PRO, which comes with all of the features of the NeoTV, allows you to wireless display your laptop screen on your TV in up to 1080p full-HD video and 5.1 Dolby Digital Surround Sound—as long as you have a compatible Intel WiDi laptop. You can also hook the NeoTV PRO up to many older TVs that don't have HDMI ports.
The NeoTV Max, meanwhile, has all of the features of the other two models, but also allows users to play personal media from external hard disk drives, USB drives and DLNA media servers. It also comes with a premium remote control that includes a full QWERTY keyboard. And you can stream 3D movies from Vudu.
All three streaming players are available now from major retailers and online. The NeoTV retails for $49.99. The NeoTV PRO retails for $59.99. And the NeoTV MAX retails for $69.99.
To learn more, please visit www.netgear.com/stream.