Nelly Furtado Donates $1 Million To Free The Children Charity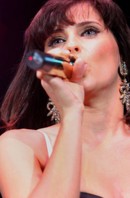 Singer Nelly Furtado has shown off her generous side by donating $1 million to help poverty-stricken young girls around the world.

The Maneater hit-maker has offered the funds to Free The Children, which helps girls in the Maasai Mara region of Kenya, as well as the Middle East and North Africa, who are in need of support.

Furtado announced the pledge while she was onstage performing at the Free The Children's We Day event in Toronto, Canada on Tuesday.

The singer recently visited the charity's development projects in Kenya for a documentary, Nelly Furtado: The Road To Kisaruni.

She says, "My charitable mission is to empower girls around the world to realize their full potential. I left a piece of my heart in Kenya earlier this year and I can't wait to get started on helping girls like the ones I met build a brighter future for themselves, their families and communities."

A portion of Furtado's money will go towards funding a new all-girls boarding school in Kenya.